VMI Cadets Excel in Summer Internships
LEXINGTON, Va. Oct. 12, 2023 — Over the summer, Virginia Military Institute cadets bolstered productivity and savings for two Fortune 500 companies, while taking advantage of the internship for credit program offered through the Department of Economics and Business (ECBU).
Cache Douma '24 worked for Wells Fargo in Charlotte, North Carolina, and Charles P. Lewis III '24 worked for Amazon in Chesapeake, Virginia.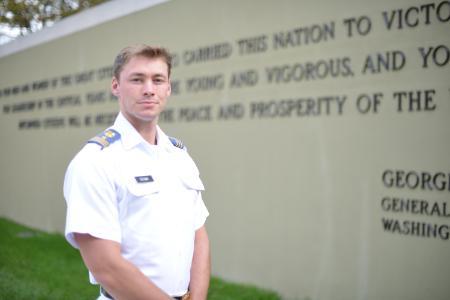 According to Col. Jennifer E. Pullin, ECBU professor and faculty advisor for the program, VMI treats the program as a summer course.
"Cadets must work at least 300 hours to receive three credits. Not all who participate have to be ECBU majors, but those who are majors, like Douma and Lewis, must fulfill certain requirements to complete the class. The majors must keep journals, receive an evaluation from their employer, write a reflective essay, and give an oral presentation," she explained.
For Wells Fargo, Douma researched control management, the study of monitoring and mitigating risk, and taking corrective action. He developed two projects currently in use at Wells Fargo: A PowerApps form that assists in data collection and transactions between internal business groups; and a statistical analysis model that can predict where instances of risk will occur.
"Working at Wells Fargo was a wonderful experience. Before I began my internship, I envisioned that I would be the one to go on coffee runs or isolated in a cubicle reading a rule book. I expected to be micromanaged, and not be hands-on at all, but I was totally wrong. I was given a good workload and was appropriately monitored. I was considered a trusted co-worker and was able to complete all my learning objectives for the class. It changed my perception of the corporate world," said Douma.
Pullin added, "Cache showed the best of VMI at his Wells Fargo internship this summer. He made himself available to his Wells Fargo colleagues and received the benefits of a job well done with independent work and in-depth learning about risk management."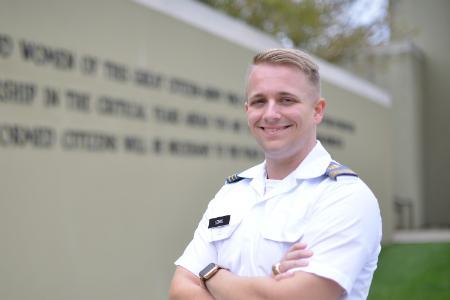 As an area manager for Amazon, Lewis ensured that order fulfillment operations involving 80-120 employees, ran efficiently. Using his education and values learned through VMI's rigorous curriculum, he implemented a system in his Amazon building that produced tangible savings of $16,000 within four weeks. Senior leadership projected when implemented across multiple buildings, the system will save $7 million or more for the company within a year.
"During shifts I ran as lead manager, I consistently produced rates that met or exceeded expectations and upheld standards within my team. However, when rates were not met, I was held accountable and sought solutions to prevent barriers from reoccurring. I learned to manage effectively, and am thankful for the experience," said Lewis.
"Charles did a spectacular job at Amazon this summer. I have worked with the internship for credit program for six years, and I have never heard a manager speak so highly of a cadet," shared Pullin.
Douma is from Belgrade, Montana, where he attended Manhattan High School. He is the son of Susan and Andy Douma and grandson of Lawrence Wetsell Jr. '61. After graduation, Douma plans to work in private equity in Jacksonville, Florida.
Lewis is from King William, Virginia, where he attended King William High School. He is the son of Kimberly and Charles P. Lewis Jr., and the grandnephew of Ronald Lewis '71. Amazon has extended an offer of full-time employment to Lewis, who plans to work in the private sector after graduation.
Marianne Hause
Communications & Marketing
VIRGINIA MILITARY INSTITUTE