Economics and BusinessEconomics & Business Faculty Research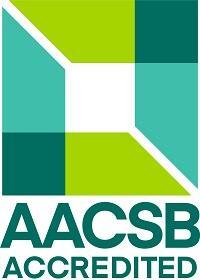 We prepare tomorrow's leaders, who are especially well-suited for careers in finance, management, marketing, and the military. Our students also gain a solid foundation for prospective graduate studies in disciplines such as economics, business, health and public administration, and law.
Our commitment to maintaining our accreditation with the Association to Advance Collegiate Schools of Business—International (AACSB) demonstrates our desire to adhere to rigor and excellence. Less than 5 percent of the world's business programs have earned AACSB accreditation.
---
MISSION
The Department of Economics and Business develops effective leaders with the knowledge and skills to solve the challenges of a diverse and dynamic global business environment.
FACULTY RESEARCH
Economics and Business faculty engage in scholarly research in their areas of expertise and publish their work in highly rated peer-reviewed journals.
ECBU provides a comprehensive degree in Economics and Business that is grounded in a liberal arts education. Our degree includes the essentials of a double major with a rigorous course of study, focused on quantitative methods and skills. One of VMI's most popular majors, ECBU is headed by a highly qualified faculty who hold PhDs from prestigious institutions. The program maintains a low student-to-faculty ratio, allowing us to focus on the student as an individual.

---
Degrees and Programs
Major(s): Economics and Business
Degree(s): Bachelor of Arts (B.A.)
Concentration(s):
Minor(s):

I absolutely loved the ECBU curriculum. On my first day of work in the "real world" I felt more than ready to take on any challenge. In my experience, the economics courses prepared me for the quantitative aspects of my job and the business courses prepared me for the qualitative and critical thinking aspects of my job. I loved having small classes for more individualized attention and for the opportunity to get to know all of my professors. I will always appreciate the ECBU department especially for helping me to learn to think critically and problem solve which I feel are two of my best assets today.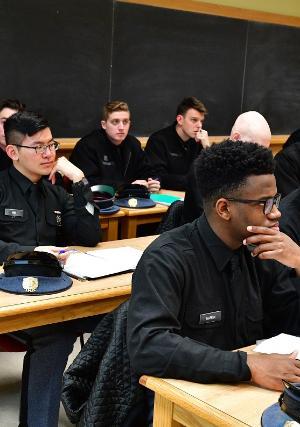 Economics and Business graduates consistently find success in both the civilian workforce and commissioned in the military following their time at VMI.
For those entering the civilian workforce, the average starting salary of a VMI graduate surpasses the average starting salaries of those with economics degrees, business degrees, and combined economics and business degrees.
Our graduates have found employment in major corporations such as Microsoft, Wells Fargo, Bloomberg LP, and Lockheed Martin. Those choosing to continue their education at the graduate level have gone on to prestigious programs such as those at William & Mary and Seton Hall.
ECBU Cadet Placements, 2019-2022
One of my Economics and Business professors always reminded us to "be the boss that you would want to work for." As I begin my career in the Marines, I see the importance of this philosophy in my daily life. The ECBU Department also taught me the importance of resiliency and a strong work ethic. These habits have helped me throughout my initial training and education in the Marine Corps. I know that I will be successful in my future because of what my professors taught me throughout my time at VMI.
We provide opportunities and activities outside the classroom. Extracurricular activities that support the academic program include: the John W. and Jane M. Roberts' American Free Enterprise Program, the WELD program, the VMI chapter of Omicron Delta Epsilon (the international honor society in economics), the VMI chapter of Beta Gamma Sigma (the international honor society in business), the Cadet Investment Club, the ECBU Book Club, the Building BRIDGEs Club, and internships and internships for credit. Many of these activities provide cadets with real-life experiences.
Scholarships are available to cadets majoring in economics and business after their rat year. Each is based primarily on academic excellence, although other factors such as need, character, extracurricular activities and leadership may be considered.
The Department of Economics and Business provides cadets with a variety of research opportunities and programs. Interested cadets can view available projects and grant opportunities.
Cadets in the ECBU program have also been honored both within the department and across the Institute for their collaborative efforts with our faculty.
Our full-time faculty earned PhDs from prestigious institutions. Excellence in teaching is the primary responsibility of the faculty. However, several are also internationally recognized researchers in their fields.
Connect with our staff to learn more about opportunities and curriculum within the department.

The VMI ECBU department regularly hosts Roberts Lunch Research Workshops. Generously supported by the Jane and John Roberts Endowment, the VMI ECBU Roberts Lunch Workshop provides a useful venue for ECBU faculty to present and share their research with their colleagues. The workshop allows faculty to learn more about their colleagues' ongoing projects and to give constructive feedback on their research and working papers. The Roberts Workshop also presents a forum for exchange of ideas and potential research collaborations. The ECBU department also hosts a joint seminar with Washington and Lee. The W&L/VMI Economics Seminar Series provides a forum for scholars from institutions across universities to present original research from all fields of economics."

From post-baccalaureate awards to syndicated radio appearances, members of the department have been featured for their innovation, scholarship, and contributions to the fields of economics and business. Learn more about projects, research, and awards in our departmental news coverage.
---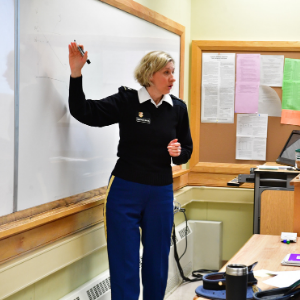 First and foremost I have to thank our faculty in the ECBU department during my time at VMI. They continuously pushed me to learn beyond the classroom and never took shortcuts when teaching. Their priority throughout was to ensure I was as prepared as possible for a career in business and finance and I can say without hesitation they fulfilled that task.