VMI Graduate Presents Paper on Artificial Intelligence
LEXINGTON, Va. Aug. 7, 2023 — Nicholas Schaefer '23, who graduated in May from the Virginia Military Institute with a degree in international studies, recently presented a paper remotely to the 25th International Conference on Artificial Intelligence (ICAI) in Las Vegas, Nevada.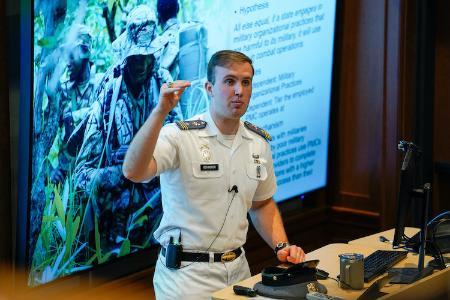 ICAI serves researchers, scholars, professionals, students, and academicians who are looking to both foster working relationships and gain access to the latest research results. It was held jointly with a number of other research conferences, namely The 2023 World Congress in Computer Science, Computer Engineering, and Applied Computing (CSCE'23).
Artificial Intelligence (AI) is the science and engineering of making intelligent machines and systems capable of simulating human intelligence to perform tasks and solve problems. Schaefer's paper titled, "Defense of Military Installations from UAV-Borne Attacks Using Machine Learning" focused on protecting military bases from drone attacks. "This project is the foundation of one use for machine learning that can keep our troops safer on the battlefield through enhanced situation awareness and protection," stated Schaefer.
The paper was part of an honors course called "AI Concepts and Applications" offered during the spring semester by Lt. Col. Jaafar Alghazo, associate professor in the Department of Electrical and Computer Engineering, and was published through a grant from the Commonwealth Cyber Initiative. Dr. Sherif Abdelhamid, assistant professor in the Department of Computer and Information Sciences, along with Alghazo, supervised Schaefer's research. According to Alghazo, who advised Schaefer with the paper, the conference has an acceptance rate of 19% - 24% for submitted papers. "We were thrilled that the paper was accepted as a full regular research paper," said Alghazo.
Schaefer, from Leesburg, Virginia, is the son of Caroline and David Schaefer. He is currently serving in the U.S. Army as an infantry officer with a military intelligence branch detail.
Marianne Hause
Communications & Marketing
VIRGINIA MILITARY INSTITUTE