Jackson-Hope
Seeing the Potential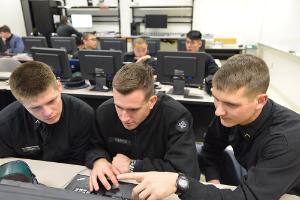 With an endowment goal of $50 million, the Jackson-Hope Fund provides a unique source of support for especially promising academic initiatives that might otherwise languish in competition for the Institute's resources.
Named after the Jackson-Hope Medal, the annual cadet award for the highest academic achievement, the Fund directly benefits cadets and faculty through innovative advancements in the academic program, guided by the goals and objectives set forth in VMI's Vision 2039 and the Southern Association of Colleges and Schools (SACS) Quality Enhancement Plan.
The Jackson-Hope Fund is distinctive in that contributions are made with no specific purpose other than to support academics, and principal donors are actively involved in the process by approving the Institute's use of the funds and monitoring performance. Since its inception in 2001, the Fund has raised over $37 million and has provided close to $23 million in grants in support of key academic initiatives. This support has been instrumental in many of the successes of VMI's academic program.