Deputy Chief of Staff and Operations
COL Gary Bissell graduated from the Virginia Military Institute in 1988 with an Economics degree and commissioned in the U.S. Army.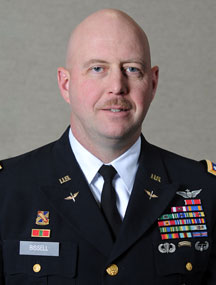 He completed the Aviation Officer Basic Course (AOBC), Initial Entry Rotary Wing course (IERW), and Air Assault School in 1989. Following OBC, he served in Camp Page, Korea as an Aeroscout Platoon Leader flying OH-58 helicopters. In 1991, he completed the Aviation Officer Advance Course (AOAC), Airborne School and Ranger School before being assigned to Fort Riley Kansas where he served as the Assistant Battalion Flight Operations Officer.
COL Bissell then transferred to the Kansas Army National Guard, where he served as the Target Acquisition and Reconnaissance Platoon Leader, General Support Aviation Platoon Leader, and the Company Operations Officer. While in Kansas, he completed a Bachelors Degree in Elementary Education from Kansas State University.
In 1994, COL Bissell moved to Germany where he served in the U.S. Army Reserves as the Assistant S-2 and HHC Commander for the 166th Aviation Regiment while also teaching middle school for the Department of Defense Dependent's Schools (DoDDS) in Wurzburg.
In 1997, COL Bissell returned to Lexington, VA where he taught math and science for two years at Rockbridge Middle School serving as the 8th grade team leader, before returning to VMI. During his tenure at VMI, COL Bissell has served as the Assistant Commandant of Cadets for Operations and Training, Associate Registrar, Officer-in-Charge of the Company Tactical Officer Program, Officer-in-Charge (OC) in the VMI Barracks, Cadet Veteran's Liaison, and Advisor to the Class of 2007. During this time he also served in the U.S. Army Reserves as the Battalion S-1 and Battalion S-3 for the 5-159th Aviation Battalion and commanded a CH-47 Heavy Lift Helicopter Company in support of OPERATION IRAQI FREEDOM. He then served in the District of Columbia Army National Guard as branch chief in the DA Operations division. In 2009 he completed his Master of Education degree Cum Laude from Norwich University. From 2009 to 2010 COL Bissell was mobilized for a tour in the Army Operations Center in the Pentagon. Upon returning to VMI, he was assigned to his current position as Deputy Chief of Staff and Operations. From 2011 to 2013 he served as Battalion Commander of the 1-320th (Drill SGT BN) in Abingdon, VA, while also completing the United States Army War College where he received a Master of Strategic Studies Degree. From 2013 to 2014 he was assigned to the Office of the Deputy Under Secretary of the Army working with the Army Science Board and from 2014 to 2016 he served as Brigade Commander of the Forces Command Augmentation Unit in Ft Bragg, NC. During this time he also completed Advanced Joint Professional Military Education (AJPME). COL Bissell's last reserve assignment was as the Reserve Advisor for the J5 in the Joint Staff at the Pentagon.
His awards and decorations include: Legion of Merit, Bronze Star Medal, Meritorious Service Medal (with 4 Oak Leaf Clusters), Air Medal, Army Commendation Medal (with 1 Oak Leaf Cluster), Army Achievement Medal (with 1 Oak Leaf Cluster), Reserves Component Achievement Medal (with 9 Oak Leaf Clusters), National Defense Service Medal (with 1 Bronze Service Star), Global War on Terrorism Expeditionary Medal, Global War on Terrorism Service Medal, Korea Defense Service Medal, Armed Forces Service Medal, Armed Forces Reserve Medal (with Gold Hourglass and "M" Device), Army Service Ribbon, Overseas Service Ribbon, Army Reserve Component Overseas Training Ribbon (Second Award), Army Superior Unit Award, Joint Staff Badge, Army Staff Badge, Senior Army Aviator Badge, Ranger Tab, Parachute Badge, Air Assault Badge.
He is married to BG Marti Bissell. They have two children, Joshua (CPT, US Army) and Briana (Elementary School Teacher).