Regimental System
VMI's regimental system is the military component of the Corps of Cadets. It provides a grounding in the military system, and promotes a strong sense of belonging, pride, and commitment.
Leadership cannot be developed by an individual in isolation. Choosing to become a cadet at VMI means joining a senior military college with a distinguished history and strong tradition of developing military and civilian leaders. At VMI, the journey to becoming a leader starts as a follower in the regiment. After two years, cadets contribute to important leadership responsibilities that support the Corps of Cadets.
Rank is not automatically assigned by class year - it's earned. Cadets must apply for and be selected for rank based on demonstrated performance and leadership potential.

Organization of the Regiment
The Corps of Cadets regiment is organized to reflect an Army infantry regiment. VMI's approximately 1,600 cadets join one regiment of three battalions and their staffs. Each battalion has three companies, for a total of nine line companies plus a Regimental Band. At different times in VMI's history, the regiment has consisted of two battalions.
The regiment consists of squads led by corporals (selected 3rd Class cadets). Squads are grouped into platoons led by sergeants (selected 2nd Class cadets) and lieutenants (selected 1st Class cadets). Platoons operate within companies commanded by 1st Class cadet captains. Companies group into battalions under the command of yet more cadet captains. Finally, battalions form the regiment, commanded by the Cadet First Captain.
Regimental staff and battalion staff each maintain a Cadet Commanding Officer, Cadet Executive Officer, Sergeant Major, and S1-S7 Lieutenants or Captains, Sergeants, and Corporals. The cadet company officers and cadet non-commissioned officers constitute the remainder of the battalion ranks.

Responsibilities of Cadet Officers and Staff
Regimental Officers are responsible for the conduct, discipline, training, and operations of the entire Corps of Cadets regiment.
Battalion Officers are responsible for the conduct, discipline, training, and operations of their battalion.
Company staff and four platoons are responsible for the accountability, training, and welfare of cadets in their company.
Color Guard staff are responsible for the safeguard and maintenance of the colors for all events on post.
• S1 (Adjutant) staff are responsible for all personnel and administrative actions for the Corps of Cadets.
• S2 (Academics) staff advise the Corps of Cadets on all academic procedures contained in VMI regulations.
• S3 (Operations) staff plan, coordinate, execute, and supervise training, ceremonies, and other major operations of the Corps of Cadets.
• S4 (Supply) staff coordinate supplies and logistics for the Corps of Cadets.
• S5 (Public Relations) staff are responsible for public relations, counseling, and recruiting programs for the Corps of Cadets.
• S6 (Athletics) staff are responsible for all issues related to NCAA athletics and club sport events.
• S7 (Cadet Life) staff are responsible for the general well-being and morale of the Corps of Cadets.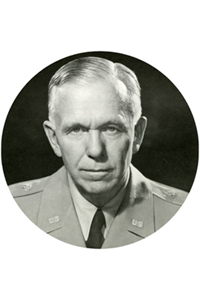 "...the efficiency of your leadership will depend only to a minor degree on your tactical ability. It will primarily be determined by your character, your reputation, not much for courage... but by the previous reputation you have established for fairness, for that high-minded patriotic purpose, that quality of unswerving determination to carry through any military task assigned to you."