Cadets See Latest Tech, Meet Vice President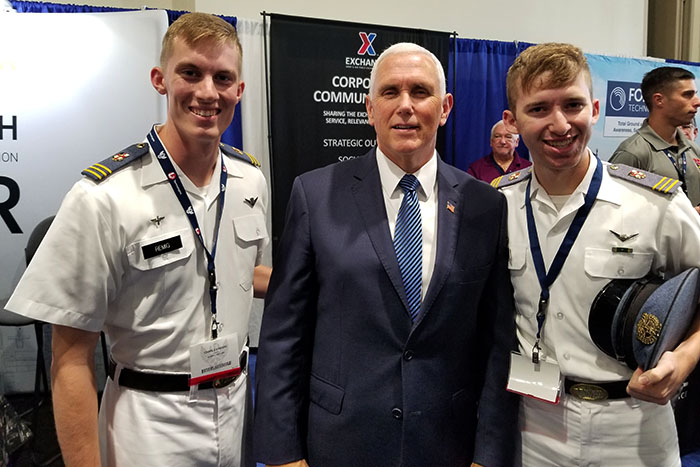 For about 20 VMI Air Force ROTC cadets, attending the Air Force Association Air, Space, and Cyber Conference last month was not just an opportunity to learn and see what new technologies they may use in the field, but also a chance to meet Vice President Mike Pence.
The cadets attended the conference in National Harbor, Maryland, on Sept. 18, 2018, which was the 71st birthday of the U.S. Air Force.
The conference featured officials from all ranks in the Air Force, as well as contractors showing off their newest technology, including new applications of virtual reality.
"I am still blown away by the number of important people, the type of jobs; they were all there. I was first drawn to the tech demo," said Charles Remig '19, who attended the conference. "I want to be a drone pilot, and I got to talk to so many people about what they do."
Being a technophile, Andrew Rundquist '19 said it was "mind-boggling" to see all the newest technology available to the Air Force.
The primary goal of the technology was training—how to train faster, and as efficiently as possible, Remig said.
"You didn't use to have this. Before, you could be in a plane spending who knows how much on gas and time. Now, you can do everything from a computer," he said.
Rundquist added that he was impressed by the variety of features with the VR headsets, including hand tracking software and detailed cockpit designs. Even Bohemia Interactive, a video game developer, was at the conference showing off new designs for training simulations.
Both cadets own a few of Bohemia's video games, which is why they recognized the name.
"We are living in a tiny golden age of computing power, and that is translating into training opportunities. What tech can do when we shove more power into it," Rundquist said.
Meanwhile, Rundquist said he had another goal in mind: meeting Pence, who was a special guest at the conference.
Col. Steven Biggs, commander of VMI Air Force ROTC, said many conference officials knew Pence would attend, but none of the participants knew.
Seeing that Pence was following a distinct route, Rundquist said he told everyone to stand at a specific booth that looked like it would put them in Pence's line of sight. The plan worked.
"He definitely had an agenda. To see him break out and shake our hands, take a photo. He shook my hand and said 'We need you, boys. We will need you in the fight.' It was a surreal experience, especially since that is the No. 2 man," Rundquist said.
Remig said it was amazing to him that Pence knew who they were and that shows the reach of VMI.
Another factor that impressed the cadets was the number of attendees in addition to Pence who recognized the VMI uniform. In past years they wore winter greys, which meant they were often mistaken for cadets at the U.S. Military Academy. This year they wore class dyke, which got more recognition.
Other attendees recognized the white uniforms because they had worn the same uniform before. Remig noted they met numerous alumni from many different ranks.
One alumnus they met was Derek Rankin '05, who is a drone operator, the same field Remig wants to go into when he commissions.
"VMI is its own little bubble. Sometimes [civilians] will see the ring and recognize. For alums to say 'Hey, we got your back.' They are willing to throw their emails at you because they look after their own," Remig said.
Rundquist echoed the statement by saying that on post, cadets hear a lot about VMI's alumni network, but it's hard to put that into something relatable until they go out into the outside world.
Biggs said he hopes in the future to be able to reserve buses for Air Force cadets to attend the conference, which could allow more cadets to experience it.
The conference did get off to a bumpy start for the cadets, before even leaving the Lexington area. The group rented two passenger vans and just a few miles off post, a tire exploded on one van on Interstate 81, Biggs said.
Everyone jumped into action to help, and after switching out vans back on post, the cadets arrived at the conference just after missing Air Force Secretary Heather Wilson's opening speech.
Despite that beginning and after seeing the technology and meeting everyone, Rundquist said he remembered turning to Remig at the conference and asking, "Can we commission today?"
- By Ashlie Walter