Baseball Opening Day Welcomed with Event in Crozet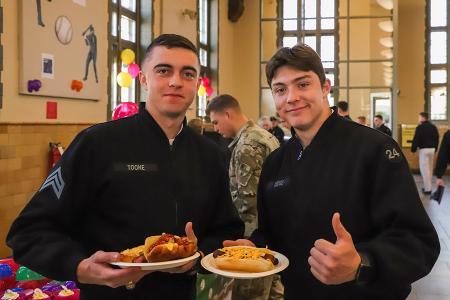 LEXINGTON, Va., April 1, 2023—To celebrate the opening day of the Major League Baseball season, several employees joined forces to plan and produce a hot dog bar in Crozet Hall. As a fan of the MLB and ballpark fare, Tracy Hiner, Parkhurst Dining general manager at VMI, worked with a team to produce a new experience for cadets.
 "A little over a month ago, Keith [Ashley] mentioned the idea of a hot dog bar for the opening of baseball season," said Hiner. "As a fan of both, I said 'Let's do it!' "
The idea was spurred by Keith Ashley, director of operations for Parkhurst Dining at the Institute, and he was the primary force in planning the event. Hiner shared that Ashley wrote the menu, which included hot dogs from all regions, ordered decorations, and turned the items over to Mamie Trussell, supervisor, for the final touches.
"While I may have supplied the idea to celebrate the opening of baseball season, it was a collaborative effort from Mamie Trussel, supervisor, Brad Hamilton, executive sous chef, and their staff," said Ashley.
At the event, cadets walked through an assembly line to create all different kinds of hot dogs. If cadets did not want to create their own, the team created a menu of several different hot dogs to guide them through the process. The menu included a Cincinnati style dog, West Virginia slaw dog, Texas style dog, Coney Island dog, and many others.
"A list of hot dog recipes was provided for fan favorites like Kansas City, Chicago, Coney Island style, and some unfamiliar combinations like the 'Classy Lady,' featuring crushed potato chips and cheese sauce," he said.
Aside from hot dogs, cadets had their choice of side items, and finished off the meal with baseball themed cupcakes. The event was topped off with baseball themed tablecloths and balloons.
"I certainly see this as a tradition moving forward," said Hiner. 
Parkhurst employees are continuously looking for ways to boost morale, and they are hopeful that this event will return for years to come. "Despite the extra work, a change-up event such as this is worth it," said Ashley. "Bringing change to our routine, and cadets, may provide a bit of joy to a cadet's day."
Olivia Polumbo
Communications & Marketing
VIRGINIA MILITARY INSTITUTE