VMI Cadet Researches Physical Fitness Motivation
LEXINGTON, Va. April 3, 2023 — Philip Argauer '23, an electrical and computer engineering major with a mathematics minor at Virginia Military Institute, is very interested in fitness and training. He conducted a year-long research project on cadet motivation with physical fitness and presented his findings in his senior thesis titled, "Increased Physical Fitness With Volt" during Honors Week, held March 20-28.
"Physical fitness and ROTC (Reserve Officers' Training Corps) training are very important and crucial parts of the VMI experience," opened Argauer. He referenced the VMI three-legged stool, and the aspects of VMI represented by the three legs: physical training, military, and academics. "Two thirds of the stool is actually applicable to this honors thesis, since fifty percent of the cadets will commission into the military, and they all have to pass physical assessments each semester."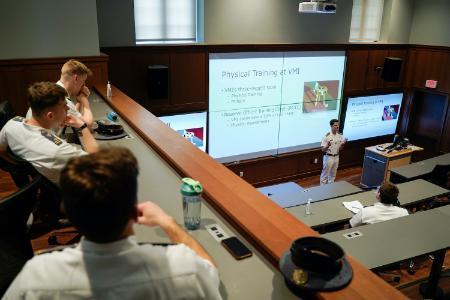 In conducting research in the usefulness of physical fitness apps for mobile phones, Argauer referenced a study done in Finland in which teenagers were told they were getting fitness technology, and to download a certain app. They were not told that they had to use it, nor how to use it. The study centered on the effects of self-efficacy, the belief or thought process that what you do will actually change the outcome. What the study found is that intervention through the fitness technology app, strengthened the relationship between self-efficacy and the intention of becoming more physically fit.
Argauer's thesis question is: Does the Volt athletics app increase the Air Force ROTC cadet exercise frequency versus non-Volt using cadets? Does Volt alter perceived benefits and barriers to exercise among Air Force ROTC cadets? What is the impact of Volt on physical fitness test scores and body composition?
He provided the app to 24 Air Force ROTC cadets, randomly placed them into test and control age-matched groups, conducting pre- and post-work-out tests, and tracked all physical training for 12 weeks during the fall semester. He collected and analyzed hundreds of exercise logs from the cadets. He found that, while the app may aid with personal workout goals for the cadets, it was not a useful tool for the pre-set ROTC physical rigors.
Maj. Daniel Baur, assistant professor in the Department of Human Performance and Wellness, and Argauer's advisor on the project said, "In our continuing efforts to improve the training and long-term impact of VMI's physical program, Arguaer's study provides valuable information as to current cadet exercise habits and attitudes. It is clear from his work that cadets value fitness, but more work needs to be done to determine the best ways VMI can support them."
Argauer is from Vienna, Virginia, where he was homeschooled. He is the son of Betsy and Tim Argauer. He is vice president for investigation on the Honor Court, he is 3rd Battalion commander, president of Tau Beta Pi, president of Eta Kapp Nu, and IEEE chapter chair. After graduation, he will commission into the Air Force where he will fly helicopters.
Marianne Hause
Communications & Marketing
VIRGINIA MILITARY INSTITUTE