VMI Cadet Strives to Comfort Parents of Hearing Impaired Children
LEXINGTON, Va. March 31, 2023 — New parents have hopes and dreams their newborn will be happy and healthy. All too often though, infants are born with some type of impairment, and the parents are devastated and confused, and are unsure where to turn for support.
Binh Tran '23, an electrical and computer engineering major at Virginia Military Institute, is working to help parents of children with hearing impairments, and presented his research in his senior thesis titled, "C# Frequency Sampling-Based FIR Filter Design" during Honors Week, held March 20-28.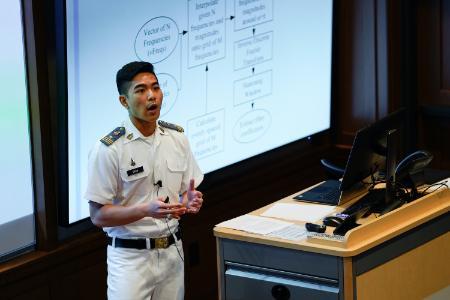 The ultimate goal of this multi-student project is to develop an app to help parents of hearing impaired children perceive the same sense of hearing that their children hear. The app will be easily accessible and free to all who need it. The research project will span a period of six years. Tran has personally worked on it for the first three years, and a second Institute Honors scholar will continue the research next year.
Using complex mathematical formulas, Tran has developed an open-source filter that can take any arbitrary sound and modify it as dictated by any person's unique audiogram. The audiogram describes the person's ability to hear sounds at different volumes and frequencies. While this ability has been available for years to researchers using expensive software such as MATLAB and proprietary audiology hardware, Tran's contribution is to create it as an open-source project, so anyone may incorporate it into their projects for free.
Tran will present his thesis work as a technical paper at the Institute of Electrical and Electronics Engineers (IEEE) SoutheastCon 2023 in April in Orlando, Florida. It is the IEEE's annual conference for both undergraduates and professionals in the Southeast. His paper has already been peer reviewed by three professors of electrical engineering and found worthy of being published as a full-length technical conference proceeding in the professional division.
Col. James Squire, professor of engineering and Tran's advisor said, "Many people know Binh for being a very successful cadet, whether as Regimental S2 captain, or Air Force ROTC cadet wing commander, or for publishing graduate school level engineering papers. But what distinguishes him is that he can do all these things while remaining humble. Leaders can be the brash Pattons, but they can also be the quiet, thoughtful MacArthurs."
Col. Nichole Scott, commander of the Air Force ROTC at VMI said, "Tran is our Delta Commander this semester, and has enabled the detachment to be successful and exceed the required training objectives. He regularly demonstrates excellent leadership and followership traits in his daily interactions. He believes in building coalitions and promotes teamwork to get the mission accomplished. His work ethic is phenomenal, and he will continue to be successful as a 2nd lieutenant in the United States Space Force!"
Tran has begun transitioning with a 3rd Class cadet who will spend three years further developing the program, and will work with an audiologist in the Virginia School for the Deaf and the Blind to make the application available to audiologists throughout the country.
Tran is from Ashburn, Virginia, and attended Riverside High School in Leesburg. He is the son of Man Tran and Bich Nguyen. He is the Delta Commander in the Air Force ROTC and has served as an academic staff (S2) captain, group president for the Cadet Investment Group, financial officer for the Arnold Air Society, vice-president for Eta Kappa Nu, secretary for IEEE, and a member of Tau Beta Pi, and Omicron Delta Kappa. After graduation, he will commission into the U.S. Space Force as a developmental engineer.
Marianne Hause
Communications & Marketing
VIRGINIA MILITARY INSTITUTE