Busiest Winter to Date in the CPTF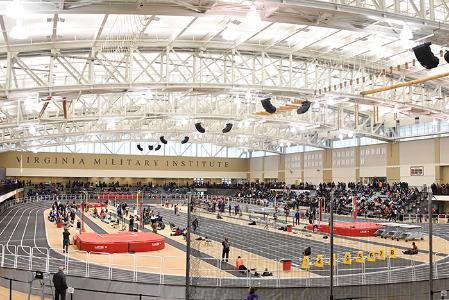 For the third year in a row, the Corps Physical Training Facility serves as the site for the Southern Conference Indoor Track and Field Championships Feb. 29-Mar. 1 in Lexington.
To prepare for the event, the VMI track and field teams hosted the largest number of events since the CPTF opened, with four separate weekends of competition, topping the previous high of three events held before the SoCon Championships. Director of the CPTF Capt. Isaac Slone says, "We have a ton of exposure, which we are excited about."
This winter the Keydets hosted the Keydet Invitational, Jan. 17-18; the VMI Team Challenge, Jan. 25; the VMI Winter Relays, Feb. 7-8; and the VMI Indoor Classic, Feb. 14-15.
"We have hosted meets in the CPTF for a couple of years now," said VMI head coach Darrin Webb. "However, this will be the largest number of meets that we have hosted during an indoor season. We have and are getting great responses from teams that have attended the meets in the CPTF previously, and we are excited to welcome them back, along with the new teams that will attend meets in the CPTF for the first time."
The Keydet Invitational featured more than 25 schools from the Mid-Atlantic region, while the VMI Team Challenge was a one-day event that had eight schools competing for team points.
"In addition, we are also very thrilled that the Southern Conference has selected VMI to host the 2020 indoor championships here in Lexington," Webb said. "So, all in all we will host five separate collegiate events in the CPTF this winter, and my staff and teams could not be more excited about the opportunity and to compete in one of the best facilities in the country."
Slone couldn't agree more. "With all the hard work between the commandant staff, physical plant, and VMI athletics, the feedback we have gotten has been extremely positive, and people are starting to understand that the CPTF is unlike any other facility in the United States."
- By Daniel Whitehead, VMI Athletics