Epidemics and the Corps of Cadets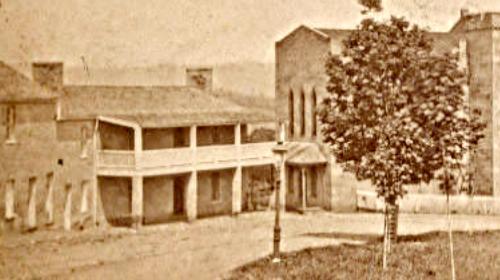 Just six years after the founding of VMI, in 1845, a typhoid fever epidemic struck Lexington and the Institute. The cadets were quarantined to post. This health emergency resulted in the building of the VMI Hospital in 1848-49. The hospital could accommodate 16 cadets and was judiciously located between the barracks and the mess hall. That building now houses the Office of International Programs and the Chaplains' Offices.
During the last week of September 1889, typhoid fever quickly spread through the Corps. The source was found to be the underground gray water drainage system in barracks. On Oct. 16 of that year, the corps was placed on furlough. Classes resumed on Nov. 29. Out of a Corps of about 300, three cadets died and six cadets did not return to post.
In 1903 and 1910 typhoid returned to barracks, resulting in an unplanned furlough. The 1903 hiatus was from Oct. 23 to Nov. 24; 11 cadets were infected but no deaths resulted. In 1910 the furlough extended from Nov. 21 to Jan. 4, 1911, during which time there were 38 cadet cases—again no deaths. The Corps numbered about 600. Washington & Lee University was also closed during the 1910 outbreak, with severe economic consequences for Lexington merchants. Both instances were tracked to the campus water supplies.
During the influenza epidemic of 1918, many Virginia public schools were closed by local school boards, but colleges across the state remained open, choosing to keep students quartered on campus rather than sending them home. While The Cadet, the Corps newspaper, carried a mention of alumni influenza deaths, it never mentioned the impact on the Corps, which was relatively mild.
Quarantine to post has also been used several times to combat disease. A short time before the 1927 Christmas furlough, which had only existed since 1925, the Corps was called into Jackson Memorial Hall and told that four cases of infantile paralysis, or polio, had been discovered in the Corps and thus cadets would not be released for the Christmas holiday. The cadets made the most of the situation. On Dec. 29, the Corps was at last released for a brief period, returning to barracks on Jan. 11, 1928. By then, the Corps had grown to about 750.
The influenza epidemic of 1928 hit the Corps particularly hard. A temporary hospital for more than 300 cadets was set up in the 200 level of Jackson Memorial Hall (location of the VMI Museum today). The Institute and other colleges around the state extended the planned Christmas furlough, from Dec. 16, 1928, to Jan. 5, 1929. At the time, it was the longest Christmas furlough ever granted at VMI.
- By Keith Gibson, Director of VMI Museum System