Parade Offers Insight and Encouragement to Attend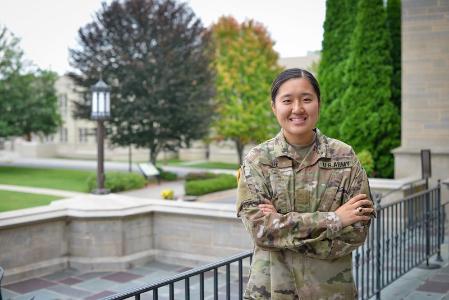 LEXINGTON, Va., November 21, 2021—"The parade really got me."
Claire Lee '22 is a history major and literary studies minor from Woodbridge, Virginia. A VMI rifle team member, Lee hopes to commission in the Army upon graduation.
Growing up, Lee heard much about VMI from her father, Steve Lee '95. Her family visited post often for football and basketball games, but Lee knew she didn't want to attend VMI.
"I was like 'this school is weird, I would never do anything like that. Why would they do push-ups during a football game?'" Lee stated.
Her senior year of high school, Lee applied to VMI as her "last" backup choice. Just in case, though, she attended an open house to see what post was like, and as she put it, "the parade really got me."
"I fell in love with the whole system of VMI: the brotherhood, the discipline people are required to learn, the structure," Lee said. "I was like 'I need to come to this school.'"
For Lee, the Rat Line pushed her to find her voice and confidence.
"In high school, I was very shy, and I didn't talk to a lot of people," Lee said. "The Rat Line makes you go outside of your box, and that made me realize I need to develop myself into a more confident person so I can survive in this situation."
At VMI, Lee found the inspiration to succeed from her cadre and Brother Rats. At first, she did not plan on commissioning into the military, but after being immersed in the VMI experience, she learned more about the opportunity.
"I talked to [the Army ROTC] cadre a lot about commissioning in the Army, and they told me I needed a good GPA and PT score," Lee explained. "I wasn't really good at PT, but I knew that I would get better if tried every day to be a better version of myself and reach my goals."
Now, Lee holds leadership roles in Army ROTC and shoots on the VMI rifle team. As she looks ahead to commissioning, she hopes to branch into military intelligence.
"Military intelligence makes you challenge yourself and think outside of the box, and that's what I want to do," Lee shared.
Eric Moore
Communications & Marketing
VIRGINIA MILITARY INSTITUTE