Cadet Utilizes Career Services for Success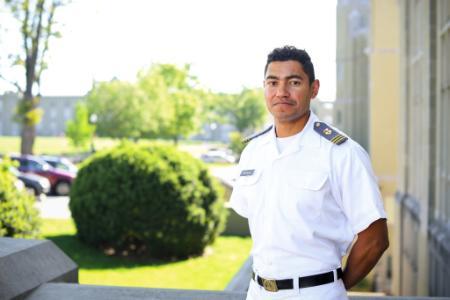 LEXINGTON, Va., May 12, 2022—"As VMI cadets, we are sought after for our leadership, discipline, and integrity. These are qualities that are simply not reliably found at other schools."
Alex Rodriguez '22 is just a few days away from graduating, and he is excited to start a full time job at Lockheed Martin. A computer and information sciences major from Stafford, Virginia, Rodriguez has played on the lacrosse team, participated in Fellowship of Christian Athletes, and served as the cadet-in-charge for the Cyber Club.
Rodriguez's journey to Lockheed Martin started on LinkedIn.
"I learned a lot about LinkedIn in Lt. Col. Sheikh's class," Rodriguez said. "I looked up Lockheed Martin, and it gave me the results of all the alumni that work for them. I started following and messaging each alumnus, and after a week or two, one alumnus messaged me back."
Rodriguez did a video call with the alumnus, who offered suggestions on how to competitively apply for Lockheed Martin positions.
"I applied for a position and got the interview. Within the week, I received an offer to work at Lockheed Martin in my dream position," Rodriguez said.
Rodriguez also credits VMI Career Services for his successful job search.
"I used Career Services to help draft my resume, do mock interviews, and ask questions when comparing job offers," Rodriguez said. "They are a great resource to use and specialize in helping you get the right job. Once Lockheed Martin offered, I took that offer and another offer I earned to Career Services to compare them. They helped in comparing each offer almost line by line to help me make my final decision."
He hopes cadets apply themselves to the job search and partner with Career Services and the alumni network.
"I know that the job search can be a long and tedious process, but in the end it is well worth it," Rodriguez said. "Just like the Rat Line, you need to keep working hard, never give up, and always look for an opportunity to prove you're an asset."
Eric Moore
Communications & Marketing
VIRGINIA MILITARY INSTITUTE