Cadets Partner with Citadel for Military Skills Competition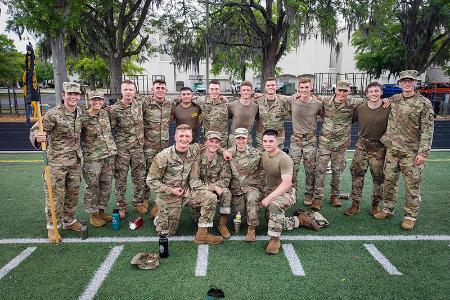 LEXINGTON, Va., Apr. 21, 2022—The Virginia Military Institute Army ROTC Blue Ridge Battalion partnered with the Citadel's Palmetto Battalion to create a military skills competition between the two ROTC organizations.
This past weekend, eight cadets from VMI, two from each class, traveled to Charleston and competed against the Citadel's team. A series of challenging events and exercises, the competition was designed to foster camaraderie and showcase the best of each institution.
The Citadel's team claimed the victory at the weekend's event, but the VMI team looks forward to hosting round two in November, the weekend of the "Military Classic of the South" football game, to claim revenge.
"Being able to lay the foundation for an event that will be happening in conjunction with the VMI versus Citadel football game every year was an honor," said Jonathan Nardi '22, cadet in charge of the event. "I can't wait to see how it will evolve and continue in the future. Thank you to all the Army cadre that made the weekend possible!"
Eric Moore
Photos courtesy of VMI Army ROTC
Communications & Marketing
VIRGINIA MILITARY INSTITUTE