Expert Discusses Essential Role for Nuclear Energy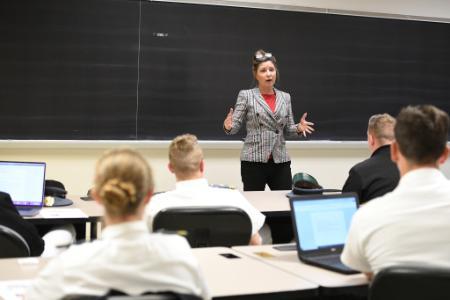 LEXINGTON, Va., Apr. 28, 2022—Maria Korsnick, president and CEO of Nuclear Energy Institute (NEI) in Washington, D.C., recently visited the Department of Mechanical Engineering and underscored the essential role for nuclear energy.
VMI offers a nuclear concentration option for cadets who plan a military or civilian career in nuclear technology. The concentration includes additional courses relating to nuclear physics and applications of nuclear technology.
"There is so much going on with nuclear energy right now, it's really quite exciting," said Korsnick. "Nuclear provides a backbone of carbon-free generation." She discussed numerous new nuclear power projects and initiatives throughout the country that are gaining traction.
Cadets valued the chance to hear from a seasoned professional in the field.
"I thoroughly enjoyed her insights on de-carbonization, energy security and small modular reactors," said Dane Hamilton '22. "I have wanted to work in green energy but never really put much thought to nuclear power in the civilian world."
"What impacted me most from her presentation was her optimism about the future of nuclear energy in the U.S. and abroad, and how much of a game-changer the newest generation of small modular reactors seems to be," added Joseph Spears '22.
Paul S. Damerell
Department of Mechanical Engineering
VIRGINIA MILITARY INSTITUTE