Microfinance as Tool to Reduce Global Poverty: VMI Cadet Presents During Honors Week
LEXINGTON, Va. April 5, 2023 — How can people living in extreme poverty in developing nations around the world lift themselves and their families out of hardship and provide a new life for generations to come? Brandon Marks '23, an international studies major at Virginia Military Institute, conducted a two-year-long research project on microfinance, and presented his findings in his senior thesis titled, "The Impact of Domestic Context on Microfinance Provision and Effectiveness" during Honors Week, held March 20-28.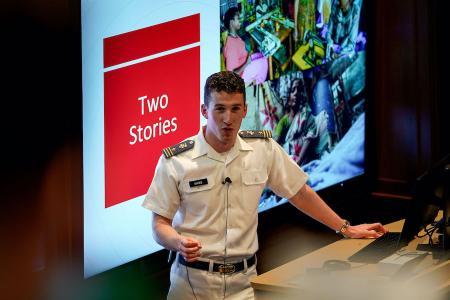 Marks opened by telling two stories. This first about a woman named Jacqueline from a poor province in Rwanda. She had lost her siblings from disease and war, but she had a dream of starting a sewing business to take her family out of poverty. She took out a $100 microfinance loan, co-signed by eight other women, and bought a sewing machine. Six microfinance loans later, her business began to expand and became profitable. Once unable to provide schooling for her children, Jacqueline successfully lifted her family out of poverty, sent her daughter to college, and hired tutors for her three sons. Marks quoted Jacqueline as saying, "The loan changed my life."
The second story was about a woman named Madhuka from Sri Lanka, who had a similar dream as Jacqueline's. She wanted to start a mat making company to lift her family out of poverty. Unbeknownst to her husband, she took out a $425 microfinance loan and started the company. However, when the rains came down and flooded the streets that she needed to sell those mats, she could not make the $30 monthly payment. Her husband panicked when he found out, and she fell into despair. In the dark of night, she went outside and poured kerosene over herself and lit herself on fire. Hearing her screams, her husband rescued her and took her to the hospital. Even at the hospital, the microfinance loan officers came to her bedside and demanded payment for the loan.
The two very different stories led Marks to his research question: How do domestic factors influence microfinance provision and effectiveness?
He stated that worldwide poverty effects nearly 698 million people, or 9% of the global population, who live in extreme poverty. "Roughly 2 billion adults across the world are unbanked, meaning they cannot apply for a loan. Microfinance is a tool that provides a way for people to take themselves out of extreme poverty, and build a new life for themselves and their families," he stated.
Microfinance provides capital in the form of small loans with high interest rates, joint liability, and no collateral, with the goal of creating entrepreneurship, productivity, and social capital in borrowers. Proponents of microfinance say it reduces poverty, uses capital for entrepreneurial pursuits, and increases economic growth, as seen in the success story of Jacqueline. Opponents of the practice though say it is a debt trap, demands high interest rates, and tends to saturate the market with similar businesses. Marks discovered that 50% of households eligible for a loan choose not to get one because they perceive it as a risky endeavor, are unwilling or fear of going into debt, and see the cost of the loan as too high.
Theorizing that high trust and regulation would lower the perception of risk for the borrower, Marks' hypothesis for his research project was, "All else equal, countries with a higher societal perception of regulatory quality should experience greater levels of microfinance provision." After much research and statistical analysis though, he found that his hypothesis is suggested to be wrong. He found that the opposite was true, that as levels of trust and government regulations decrease, microfinance provision increases. Highly regulated and trustworthy institutions are associated with efficient microfinance operations that can offer lower interest rates to borrowers. Ironically, in areas where microfinance is most needed, institutions are the least efficient and loans are the most expensive, putting borrowers at risk. On effectiveness, Marks notes that market saturation of similar businesses has a strong impact on microfinance. Countries with low regulation continue to provide business loans even after markets reach capacity, leading to hyper-competition, decreased profits, and business failure. High-regulation countries provide fewer business loans and more household loans to avoid market saturation. To effectively reduce poverty, Marks argues government and microfinance institutions should regulate lending to prevent market disruption and indebtedness among borrowers.
Maj. Megan Roosevelt, assistant professor of international studies and Marks' advisor on the project said, "Brandon's research is a great example of how the social scientific research method should work - with all its ups and downs. Trying to square a classroom discussion on microfinance with his travels in developing countries led him to an interesting and under-explored research question on an issue with major significance to policymakers, donors, and people living in poverty around the globe. Even when, after a year or more of gathering literature and quantitative data, his results disconfirmed his hypothesis, he used those unexpected findings to highlight a fascinating and maybe counterintuitive reason why microfinance has such mixed results for the poor. The whole research process has really been a testament to his creativity, hard work, and intellectual curiosity."
Marks is from Staten Island, New York, where he attended Staten Island Technical High School. He is the son of Len Marks and Cary Berwald. He is president of the Honor Court and operations officer of the Cadet Superintendent's Advisory Board. After graduation, he will enter the field of real estate development, creating hotels.
Marianne Hause
Communications & Marketing
VIRGINIA MILITARY INSTITUTE