The Extra Mile: Combat Shooting Team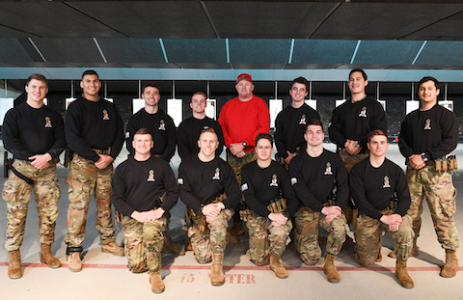 LEXINGTON, Va. Feb. 28, 2023 — For cadets at Virginia Military Institute, joining an extracurricular club offers opportunities to explore interests, master new skills, and engage with others. The combat shooting club team, currently consisting of 13 cadets, meets every Tuesday and Thursday at a location known as "the barn" at North Post. At 6 p.m., these cadets meet with their coach, whom they refer to as "Gunner," and prepare for practice.
Braden Kerr '23 is the cadet in charge (CIC) of the team. "To become a member of the team, cadets must try out. The team is interested in recruiting accurate shooters; however, we are more interested in pursuing team members with strong character. We only take 4th Classmen because we expect them to be on the team the entire time they are at VMI, receiving four years of training before they graduate," he said.
Aside from traditional team practices, cadets can compete and gain certifications. Each year, the combat shooting team travels to New Hampshire where they participate in a shooting competition called "Relentless Warrior Championship," a six-hour shooting challenge where the team competes against schools from across the country. "We compete against other service academies like West Point, the Naval Academy, the Air Force Academy, the Coast Guard, as well as other senior military colleges like the Citadel and Texas A&M," said Kerr.
When cadets join the club, they begin membership with basic NRA pistol training. As 3rd Class cadets, they participate in basic NRA rifle training. As members progress in school, they receive more training. "Going into your 2nd Class year you become an NRA range safety officer. Then going into your 1st Class year, you become an NRA instructor, and teach 4th Class cadets NRA pistol," said Kerr.
When asked about their favorite aspect of the combat shooting team, both Kerr and Garrett Kelenske '24, assistant CIC shared that the people are the best part. "There's just something about every Tuesday and Thursday. Going to North Post, the range, and you see all the guys. When we're shooting, it's very serious, but we also enjoy our time just talking and interacting with each other," said Kelenske.
All 4th Class cadets are encouraged to try out for the team this spring. "I think we have a great group of members, and I hope to see it grow," said Kerr.
Olivia Polumbo
Communications & Marketing
VIRGINIA MILITARY INSTITUTE