Photo from Alumni Reunion Reflects Family Legacy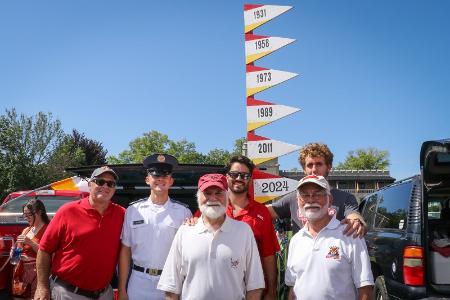 LEXINGTON, Va., November 22, 2021—"I hope to experience that deep love they have for this place one day."
Every picture tells a story, and this picture from an alumni reunion this fall depicts the VMI legacy of the McCown family. Originally from Lexington, Virginia, members of the McCown family have attended VMI since the 1920s.
Jack McCown '24 is a history and English major from Richmond, Virginia. After graduation, he hopes to become a JAG officer in the Marine Corps.
For McCown, seeing the lasting impact VMI had on his family inspired him to attend.
"What was very attractive to me was the unique aspects [of VMI]: the honor code, unparalleled in the country right now, and the mental and emotional rigor of the Rat Line," McCown stated. "That nice dichotomy of a military and civilian education."
Growing up, McCown was in awe of the cadets he saw marching in parades, the rings his family members wore, and the stories he would hear about VMI.
"It's impossible to not look at 1,700 cadets [marching] in step in a very sharp uniform [and] not want to go there when you grow up," McCown shared.
Upon matriculating, McCown began to understand what his family members were talking about.
"Going here, I definitely learned why they love and value it so much," McCown stated. "I will say, I don't think any amount of storytelling or reminiscing about the glory days of VMI could have prepared you for the challenge. It's very, very difficult."
The experience of the Rat Line crossed generations for the McCowns.
"It was amazing how I could empathize with my grandfather (Albert Lee McCown '58)," Jack said. "You go through the same things, have those same experiences. It was really cool. This was something that was that common denominator and really united us all."
The VMI Honor Code and regimental system imbued honor and character in each McCown.
"Each and every one of them knows when to bite the bullet and do the right thing," McCown commented. "[Through] living through the honor code [and] abiding by the regimental system, as they all did, I think a strong sense of personal accountability and personal honor was imbued in them, and they certainly set that example for me."
Though he did not know his great-grandfather, Albert Sidney "Mac" McCown '31, Jack heard about the deep love he had for VMI.
"My dad had always talked about this stubborn love for VMI that he had," McCown said. "They would stay in the pouring rain to the very end to watch VMI just get their tails whooped in some football game."
Now, McCown has his great-grandfather's class ring, a memento he treasures.
Eric Moore
Communications & Marketing
VIRGINIA MILITARY INSTITUTE