The Extra Mile: Cyber Club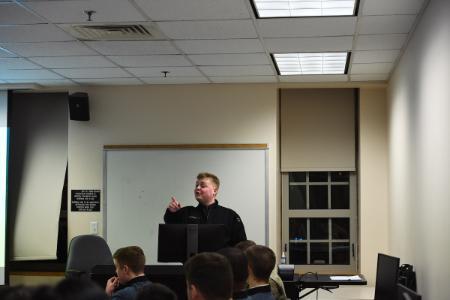 LEXINGTON, Va. April 4, 2023 — Cadet John Barker '23 wasn't big on socializing in middle and high school. He found that interacting with computers was what made him comfortable. You'd never guess that now. Barker is well spoken, engaging and Virginia Military Institute's Cyber Club cadet in charge, among other things.
"Computers are a lot easier to interact with," he said. "I did that for a little while and then I guess I became more comfortable with people, and the more comfortable with people I got, the more interested I became, in not just the being technical part, but being in an organization and trying to develop an organization that does more technical things for other people."
VMI's Cyber Club boasts 104 members, making it one of the largest club organizations on post. And it hasn't been around for long — it started in 2017.
According to Barker, this year the Cyber Club has gone through a more specific change. The club has partnered with a number of companies and organizations in order to provide different opportunities for its members. That includes professional networking, certification training, off-post activities like capture the flag competitions, paid opportunities, and expanded leadership opportunities.
"I believe that Cyber Club is really just what the people make it," said Joey Flynn '25. He said the leaders and the cadets in charge really get people involved. "You fall in love with it. It's what really pushes it to grow and develop."
The big activity they do as a club is capture the flag (CTF) competitions. The club doesn't capture a physical flag. Instead, it's a hacking competition between the club and other schools. At these competitions, the schools are given a data set and you are equipped with tools made by other people that you use to capture the theoretical flag.
VMI's Cyber Club spearheads about three of these competitions a year — the big one coming up in April, which is the NSA Cyber Exercise. To prepare, it depends on a variety of factors, Barker said.
"It depends on what the CTF is, how big it is, and then what people like to do," he said. "It's a whole wide variety of things. Whether that's looking at the website and breaking it or whether it's looking at a database and trying to break it."
Those in the club can use their experience outside of VMI. The club allows for them to get certifications and training — many of which are free to the club or at a discounted price due to the club's involvement with different organizations. One of those is TestOut Corporation, which provides professional grade certifications, which gives the club 50% off certifications. To offset the other costs, VMI's Cyber Defense Lab has agreed to pay for any club member to get a certification for free, if the cadet gets three free mini certifications from the Cisco Networking Academy. It's important to get some of these like certifications because it'll help club members in the job market in the future.
Barker, a computer science major, said he hopes club members are building valuable networks.
Many just found themselves in the club. For Flynn, he got involved as a 4th Class cadet in 2021.
"I never touched a computer, anything that in any way that mattered besides (Microsoft) Word until I got to college and I decided to be a computer science major," Flynn said. "I just wanted to be the best in my field that I could, and the Cyber Club is just like giving me the opportunity to do that."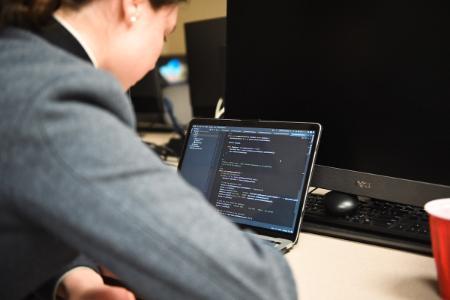 Flynn said he's using the club to his advantage by establishing as many connections as possible through the club events.
"I just want to expand my knowledge, my base knowledge," he said. "You need to be able to adapt. That type of knowledge is what we learn in Cyber Club, and I think that helps a lot in the future."
The club isn't heavily funded, which in turn creates some blocks in certain opportunities, Barker said. The club has to travel to places for several days, so it's a challenge to get off post and find transportation.
"CTF next year, for example, it's hosted at the NSA, or it's hosted at Virginia Tech, or it's hosted in Langley, Virginia. These fantastic places that are impossible to get off post," Barker said. "It's a two-day event and you have one day for travel and one day to come back. You're looking at a four-day permit. And anybody that looks at that balks at it very quickly. So you lose that networking opportunity."
Amish Parikh, IT specialist and systems engineer in VMI's Cyber Defense Lab, is the CTF coach for the Cyber Club and a mentor and instructor to the Cyber Captains within Cyber Club. He said he loves working with cadets because of their professionality and their desire to learn and enact educational experiences into their lives.
"The cadets are always looking for opportunities to gain further knowledge at VMI and after VMI in the direction that they will be heading into whether it be for government or private sectors," he said.
Parikh said the club is important especially due to the need for cybersecurity. The club presents real world cyber situations and develops a strong contingent of confident cyber members to society.
"Cyber Club is taking our citizen soldiers to becoming cyber citizen soldiers with the knowledge and know-how to protect and defend our personal data into the future," he said. "Cyber is a growing space with that in mind the Cyber Defense Laboratory is training cyber captains and Cyber Club members to expand their horizons into AI machine learning, robotics, autonomous technologies, cyber teams, and application/web development where we can provide cadets of all calibers both in STEM and non-STEM programs to learn about cybersecurity in a multitude of directions."
Cyber Club meets on Thursdays at 8 p.m. in Mallory Hall.
Laura Peters Shapiro
Communications & Marketing
VIRGINIA MILITARY INSTITUTE