Building a Better Soy Plant
LEXINGTON, Va., Dec. 1, 2017—A team of cadets joined Lt. Col. Anne Alerding, associate professor of biology, in soybean fields across the state to find a way to increase the plants' production. With their field work complete, the cadets are joining Alerding in the lab in an effort to breed plants with as much as a 20 percent higher yield.
The research project started six years ago, when Alerding and her cadets were looking for a way to turn the plant materials left after harvest into biofuels. After retooling her hypothesis, Alerding received a grant from the Virginia Soybean Board to study how branching could affect production in soybean plants.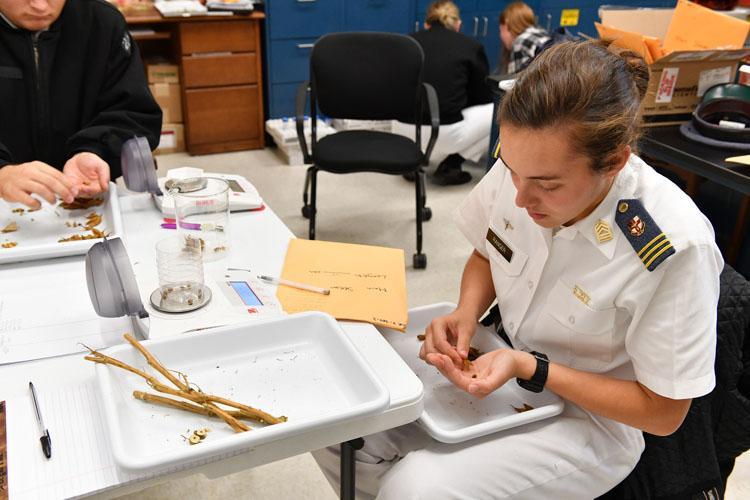 Kayla Ranger '18 counts soybeans on Nov. 8 after an experimental harvest. —VMI Photo by Ashlie Walter.
"Soybean farmers want to take a given amount of land and increase the number of seeds," she said, explaining that plants with a higher proportion of stems or branches could be allocating resources to the stem structure that could instead be used to produce seeds.
Many soybean biologists tend to study how to increase photosynthesis, but few study stem growth.
"If you are a plant and putting more energy into branching, you won't have much left for seeds. I estimated this could, for a given amount of land, produce 20 percent more seeds," Alerding said.
Alerding connected with David Holshouser at the Virginia Tech Extension Office's Tidewater Agricultural Research and Extension Center to use two farms for her field study. The two sites selected were in Suffolk and Orange counties because of the variety of planting soils.
Then, starting last summer, Alerding recruited a handful of cadets to help with the research. Austin Slone '20, a biology major, spent his summer learning the computer language Python to alter a program named ImageJ to scan and identify cross sections of the soybean plant using natural luminescence stains.
"It was a departure—learning Python. That is what caught me on to this project, that I would get to do Python programming," he said.
In the summer of 2016, Alerding connected with Dr. Aryeh Weiss of the Bar-Ilan University in Israel to help with using ImageJ in her research. Weiss and Slone developed a mentor-student relationship via Skype to make improvements to ImageJ.
"I've definitely improved my skills on how to look at a problem just because of how difficult it is," said Slone, "Right now it has been a good experience."
Laura Davis '18 started VMI as a chemistry major but switched to biology and Alerding was assigned as her adviser two years ago. Because of her chemistry background, Davis was the perfect fit to help Alerding with chemical tests on the soybean stems.
Davis worked on improving the chemical formulas to test for sugars in the stems, and performed a complete breakdown of all lab procedures.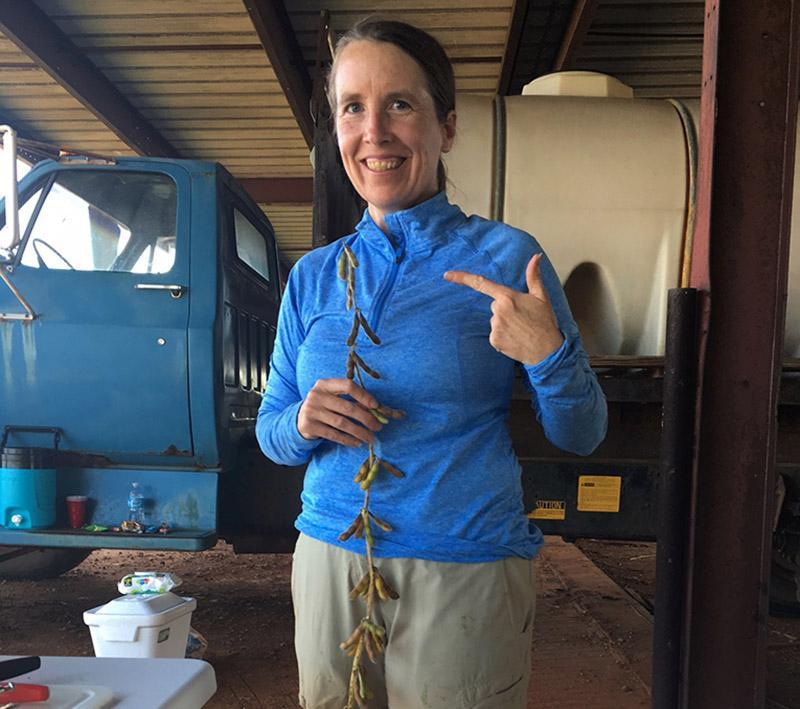 Lt. Col. Anne Alerding shows off a soy plant during one of the team's excursions into the field.—Photo Courtesy of Anne Alerding.
Angela Mullins '19 has also worked to improve the chemical tests, and found that identifying key data was vital to making progress on the team's efforts.
"You have all this information, some of it matters, but some of it doesn't. You have to pick out what helps and what can't," said Mullins.
In between the lab work, Alerding's students joined her for the 3 ½-hour drive to Suffolk most weeks, where they took measurements of soybean plants. Their work culminated in a harvest of all plant material in mid-October.
Once the plants are weighed, cross sections of the stems will be shipped to a laboratory in Vancouver, Canada, to be placed in slides. The slides are expected to be returned in January when Slone can start using his program to identify the cross sections.
"It's not easy. It's fun when you are there commiserating, but it's been hard work," Alerding said while looking at six cadets who participated in the study. "We compared it to the Rat Line, because you had to be in the sun longer transplanting plants."
The research is supported in part by a $55,800 Jackson-Hope New Directions in Teaching and Research grant, which will help develop image analysis facilities for faculty and cadets in Alerding's lab.
She expects to wrap up the study in about a year, and hopes to see the research published in an academic journal with all the participating cadets named as authors.
- Ashlie Walter
-VMI-