Biology
The biology department provides focused studies in the biological sciences to prepare students for careers in medicine and other health professions, field work related to conservation and ecology and other technical pursuits including graduate school. Our flexible curriculum allows for specializations that match cadet interests.
Our department houses a diverse and highly qualified faculty including the post-wide pre-health advisor who guides interested cadets into the wide range of health professions.
Our faculty believe interaction in the classroom, laboratory, and on an individual basis is critical in the development of successful biology majors. Class sizes are small, laboratories accompany most courses, advising is individual, and undergraduate research is encouraged.
What you can do with a biology degree:
Professional schools: medical, dental, veterinary or graduate
Health professions: physical or occupational therapy, pharmacy, nursing, physician's assistant, optometry
Other careers: forensics, laboratory or environmental technician, pharmaceutical sales, conservation or wildlife officer, military intelligence, biosecurity, science education, medical transcription, environmental or patent law
The possibilities are endless
---
Degrees and Programs
Major(s): Biology
Degree(s):
Concentration(s):
Minor(s):
Opportunities:
Pre-med focus
Medical school partnership to allow guaranteed acceptance for qualified cadets
Honors in Biology
Summer fellowship support for undergraduate research
Department endowment monies for cadet research
Study abroad programs
---
Biology in the News
Find out more about the department's cadets and faculty in recent VMI news.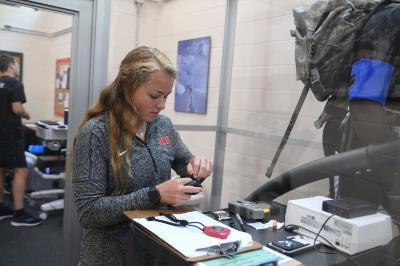 SURI: Heavy Loads and Harsh Environments – The Effects on the Human Body
Caroline Lassalle '25 has always had a strong desire to learn about exercise science and work in the medical field. The biology major spent five weeks last summer becoming a certified emergency medical technician (EMT) at Virginia Military Institute.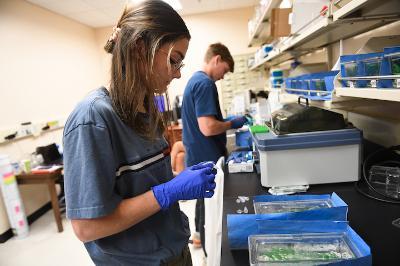 SURI: Exploring the Effects of Nicotine on Antidepressants in Betta Fish
Ellie Pickford '24 stood before a small glass tank, peering intently at the colorful Betta fish swimming within. Her summer research project was well underway, and she was determined to unlock the mysteries behind the interactions between nicotine and antidepressants.