Boxing Team Takes Third at Nationals
three members of VMI's club boxing team display their championship belts in this team photo. – VMI Photo by Kelly Nye. - See more at: http://www.vmi.edu/Content.aspx?id=10737434099#sthash.Hx3LNCHt.dpuf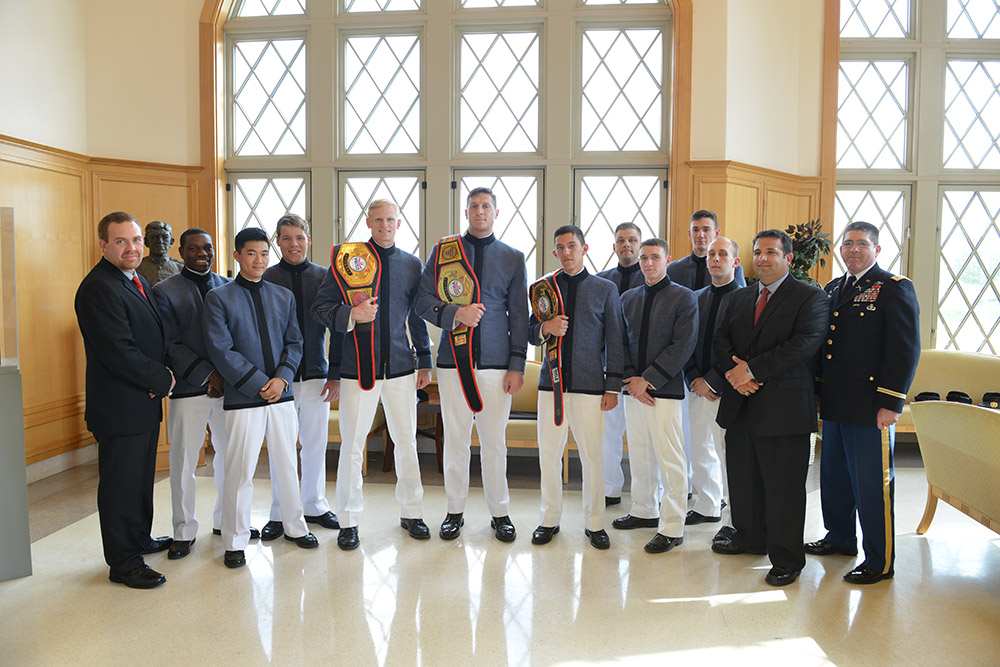 Three members of VMI's club boxing team display their championship belts in this team photo. – VMI Photo by Kelly Nye.
LEXINGTON, Va., May 3, 2016 – VMI's boxing club headed west recently to compete in the national tournament, and while the Keydets did not return with a team title this time, they did come back to Lexington with a number of individual accolades.
Three members of the team won individual championships; four earned All-America honors, and VMI placed third as a team at the USIBA National Tournament at California State University-Northridge.
"Winning the 2015 USIBA National Tournament was a dream come true, and we definitely wanted to win it again," said head coach Larry Hinojosa, noting that many of last year's team members were unable to compete this season. "The guys trained hard this season, fought hard, and did everything they were asked to do. I couldn't be more proud as a coach.
"This has been an amazing season," Hinojosa added. "We were honorary guests in the Buena Vista Christmas Parade; we were in a Super Bowl commercial with Mike Tyson; we boxed in Richmond three times. We traveled to Los Angeles for nationals and got third place as a team, and we [had] a trip to have pictures taken with the governor at the Executive Mansion in Richmond."
The Keydets boasted three individual champions. Dylan Ceglowski '19 won the 132-pound class, and Jeremiah Sokol '18 took first place at 201. Evan Thompson '16 rounded out VMI's list of champions in the heavyweight division. All three of those boxers earned All-America distinctions, and they were joined by John Winalski '16, who was named an All-American at 178.
Maj. Chris Perry '05, VMI's assistant commandant for cadet life, who supervises club sports at the Institute, joined the team in California, and while he was there, he submitted a bid to bring next year's national tournament to VMI. While deliberations about the location of next year's tournament are ongoing, Hinojosa said he is confident that the big event will be on post in 2017.
"[We] are really excited about next season," the coach said. "There is only one thing I can think of that would be better than when VMI boxing won the national tournament at the University of Michigan in 2015. That would be to win the 2017 USIBA National Tournament on the campus of VMI in front of the greatest, most passionate crowd in college boxing."
-VMI-