Cadet Battery to Be Restored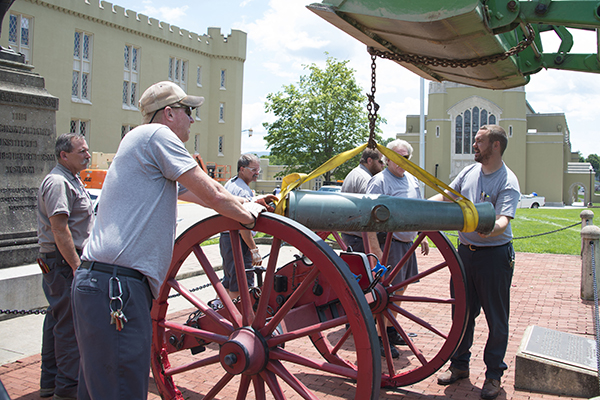 Members of the VMI Physical Plant staff remove one of the cannons for storage till the new carriages arrive. – VMI Photo by John Robertson IV.
LEXINGTON, Va., June 30, 2016 – Visitors to the VMI post in coming weeks will notice the absence of four artifacts of VMI history. The cadet battery – mid-19th-century cannons once used to train the VMI Corps of Cadets – was removed from the Parade Ground yesterday for restoration.
The cannons, built for VMI in 1848, are scaled-down versions of the field artillery of the era. The tubes sit on carriages that have been replaced several times since the federal government restored the guns to VMI in 1875, having disarmed the Institute at the end of the Civil War. The current carriages were made from a wood-composite material.
"The cannons last underwent a major renovation … in October 2010," said Col. Keith Gibson, executive director of the VMI Museum System. "In as much as it has been six years, that's about as long as you can expect a wooden carriage to last, exposed to the elements 365 days a year as those carriages are." In the 19th century, the guns would have been stored in a protected place, a gun shed or some other shelter, he said.
When the battery returns to VMI, the tubes, which weigh more than 550 pounds each, will be sitting on cast aluminum carriages that will be visually identical to the old ones. Gibson noted that it's increasingly difficult to find contractors who specialize in building wooden carriages for cannons, and these guns' unusual size makes the carriages even more difficult to obtain.
"When it comes to 19th-century artillery pieces, these guns are some of the most important and historical in the entire nation," said Gibson. "We can point to these guns and know that Stonewall Jackson used the guns himself and trained cadets on the guns for an entire decade … when he was [VMI] professor of artillery tactics." The guns were scaled down, Gibson noted, partially because the cadets were both the battery crew and the "horse power" to move the guns around.
Added Gibson, "That decade of people who were trained by Jackson on those guns became the backbone of the artillery corps in the Army of Northern Virginia in the Civil War."
The cannons saw action in the war's early months – before enough standard-size cannons were available – with the Rockbridge Artillery, whose first commander, the Rev. William Pendleton, gave them the monikers they are known by, Matthew, Mark, Luke, and John, it is said, because "they spoke with a powerful voice," said Gibson.
The now-silent guns will be back on display sometime this fall.
– Maj. Sherri Tombarge
-VMI-