Flint Researcher Receives Erchul Environmental Award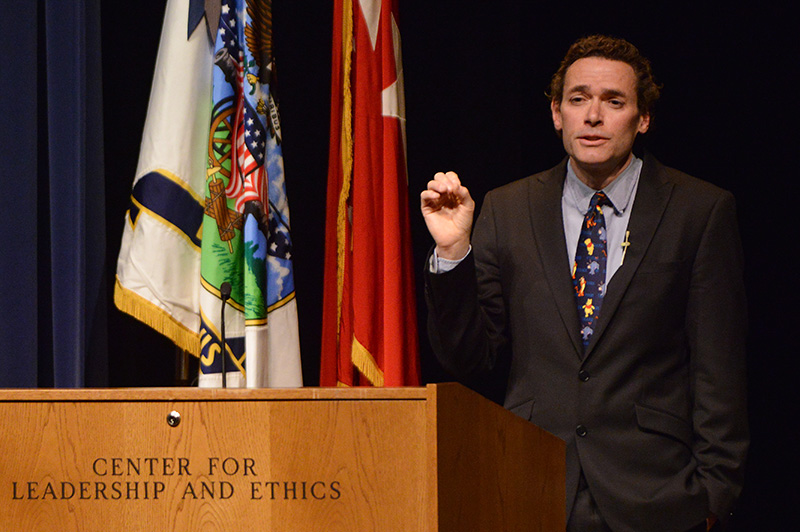 Dr. Marc Edwards speaks during the Environment Virginia Symposium. – VMI Photo by John Robertson IV.
LEXINGTON, Va., April 15, 2016 – Dr. Marc A. Edwards, professor of civil and environmental engineering at Virginia Tech, received the 2016 Captain Ron Erchul Environmental Leadership Award April 7 during the 2016 Environment Virginia Symposium. The award is presented by the VMI Center for Leadership and Ethics, host of the symposium, to recognize a Virginian who has made significant efforts to better the environment.
Edwards is recognized for leading a research team that sought to support citizen science and empower the residents of Flint, Mich., by studying the role of the infrastructure in contaminating the municipal water supply and by using the findings to inform decision makers. In the process, Edwards helped to redefine the ideal of science in service to the public.
"The study team's goals speak to the virtues recognized by the Erchul environmental leadership award – vision, integrity, commitment, and expertise. But in this case, I also think we need to recognize the raw courage it takes to stay the course and do what is right," said Col. David Gray, director of the Center.
Edwards' work exemplifies the critical leadership role engineers, scientists, and the academic community can play in protecting the public and water resources. The study team uncovered not only serious flaws state testing of the Flint water supply but also a general breakdown in the longstanding system of public health safeguards. Edwards' engagement of Virginia college students in an effort to document and call attention to the Flint drinking water crisis exemplifies his commitment to educating and empowering the next generation of natural resource leaders, a value recognized by the award.
"As the students on Dr. Edwards' team complete their studies and begin their careers, Virginia citizens and our environment will also benefit from their trusted expertise and their courage to apply that expertise," said Gray.
The Erchul Award carries a $1,500 donation in Edwards' honor to a non-profit environmental organization of his choice. This donation will be made to Virginia Tech Flint water study research.
The Erchul Award is named for the late Capt. Ronald A. Erchul, who taught geology and civil engineering at VMI for 27 years and was founder of the Environment Virginia Symposium. Nominees are judged on the basis of vision, expertise, commitment, integrity, communication skills, accomplishments, and diplomacy.
-VMI-