Governor Appoints Board of Visitors Members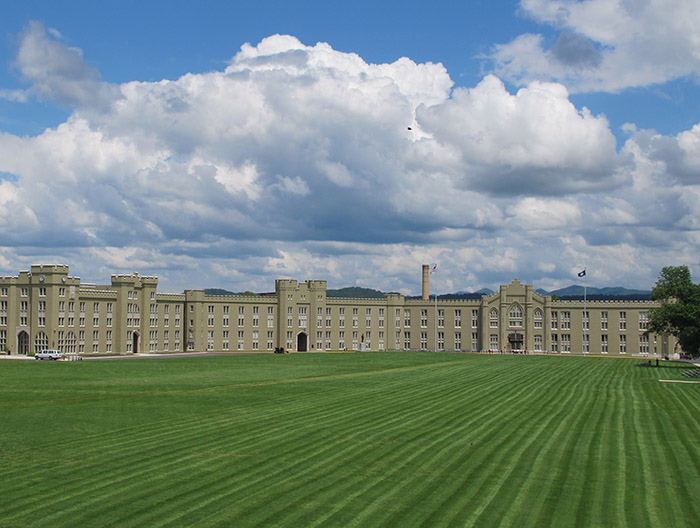 Two new members will join Virginia Military Institute's Board of Visitors July 1. – VMI File Photo by John Robertson IV.
LEXINGTON, Va., June 13, 2016 – Gov. Terry McAuliffe announced today the appointment of three new members of the Virginia Military Institute Board of Visitors and the reappointment of a current board member. Beginning their four-year terms July 1 are retired Army Lt. Gen. Carl Strock '70, retired Army Lt. Gen. Charles E. Dominy, and Mr. Scot Marsh '81, owner of a land surveying company. Reappointed to the board was Mr. George Collins Jr. '62.
Gen. Strock graduated from VMI in 1970 with a bachelor of science degree in civil engineering. He was initially commissioned an infantry officer in 1972. During his 35-year military career, Gen. Strock commanded units including a Special Forces operational detachment, a rifle company, an engineer battalion, an engineer brigade, and two Corps of Engineer divisions. From July 2004 to June 2007, he was Chief of Engineers and commanding general of the U.S. Army Corps of Engineers.
Following his military career, Gen. Strock joined Bechtel Group and currently serves as principal vice president in Bechtel's government services business unit. Among his military awards are the Defense Distinguished Service Medal and two awards of the Legion of Merit. His many professional awards include the American Society of Civil Engineers' Professional Practice Ethics and Leadership Award and its Henry Michel Award for Leadership in Research.
Gen. Dominy has served as vice president of government affairs for IAP Worldwide Services since 2005. Previously, he managed the government affairs offices for Halliburton Company and Brown and Root Corporation. Gen. Dominy entered the corporate and defense contractor arena following a distinguished military career. His Army service included service as Director of the Army Staff, Chief of Legislative Liaison, and Executive to the Secretary of the Army.
Gen. Dominy served in the Corps of Engineers during most of his career, which included service as the commanding general of the U.S. Army Missouri Engineer Division and district engineer for the U.S. Army Savannah District. His education includes a bachelor of science degree from the United States Military Academy and an master of science degree in civil engineering from the University of Illinois. He is a native Virginian and resides in Fairfax County.
Marsh of Winchester, Va., graduated from VMI with a degree in civil engineering in 1981 and then served, from 1981 to 1983, as an instructor in VMI's Department of Civil and Environmental Engineering. He is a Virginia Professional Land Surveyor and has practiced and taught land surveying for more than 30 years. He is the owner of Marsh & Legge Land Surveyors PLC, a company he helped found in 1995 that provides services in Virginia, West Virginia, Maryland, and North Carolina.
Upon graduation and commissioning, Marsh was assigned to the National Guard's 29th Infantry Division as a combat engineer. He served on active duty during the Persian Gulf War as a combat engineer assigned to a U.S. Army civil affairs command, took part in the liberation of Kuwait City, and was awarded a Bronze Star. He retired from the Army Reserve as a major. He served on the VMI Foundation Board of Trustees from 2011 to 2012.
Collins, managing partner of the Miami, Fla., based Collins Capital Investors Trust LL, LP, was reappointed to the board. His previous business roles include service as chairman, president and CEO for T. Rowe Price Associates from 1984 to 1997. Before ascending to the role of CEO, he served as a director within the firm and created the fixed-income division in 1971. Prior to joining T. Rowe Price, he worked as a senior security analyst for United States Fidelity & Guaranty. Upon graduation from VMI in 1962, Collins was commissioned and served in the U.S. Air Force until 1967.
Leaving after four years of service to the board are Dr. H. George White Jr. '54 of Winchester and retired Brig. Gen. Janice G, Igou. George P. (Pete) Ramsey III '72, concluding a term as its president, leaves the board after eight years of service.
-VMI-