41 Cross the Stage in Jackson Memorial Hall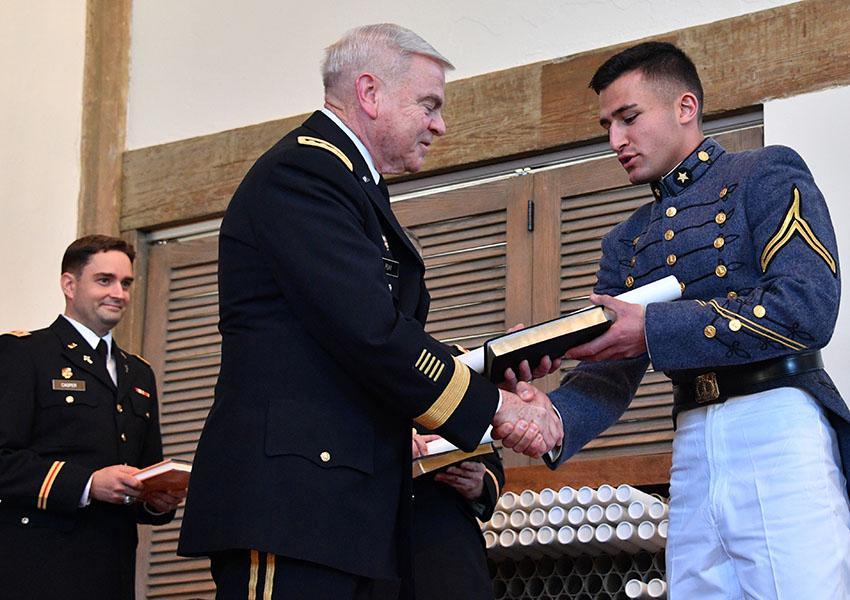 LEXINGTON, Va., Dec. 20, 2016 – With family and friends looking on, 41 cadets graduated earlier today in a ceremony held in Jackson Memorial Hall that featured an address from Brig. Gen. Robert L. Green '67, former deputy superintendent for finance, administration, and support.
Among the graduates was Richard Dow '18, who was also one of four to commission into the Marine Corps. Dow entered VMI as a rat in 2014, and it didn't take long for his instructors in the Marine Corps ROTC to learn that he was no ordinary rat.
"I was facing the back window of the barracks, and my way of gaining their attention is I start quoting Invictus," said Capt. Shawn Ridings, Marine officer instructor. "I just simply asked who could finish this. And Dow, without missing a beat, finished it."
From that moment on, Dow continued to impress VMI's Marine Corps ROTC officers –- and he made an even bigger impression at Officer Candidate School, where he won the Marine Corps Commandant's Trophy as the highest-ranked officer candidate out of more than 230 from across the country. Selection for this award, which is given to one cadet out of each OCS class, is based on performance in the areas of leadership, academics, and physical fitness.
On Nov. 12, during halftime of the Keydets' home football game against The Citadel, Dow was presented with the award by Marine Corps Brig. Gen. Stephen Neary '88, commander of the Joint Warfighting Center Joint Staff.
A native of Wallingford, Connecticut, Dow arrived at VMI in the summer of 2014 after a one-year stint at the University of Alabama. There, he'd tried the Army ROTC, but had quickly decided that the Marine Corps suited him better.
Upon arriving at VMI and getting to know the leaders of the Marine Corps ROTC, Dow quickly determined that he'd made the right choice to come to the Institute.
"Nothing parallels VMI's intensity," he commented. "You're able to bond more with people here because of the adversity, kind of the shared experience. With a large university, you don't have that experience."
Dow attended OCS over the summer in two six-week increments, one in the summer of 2015 and another in the summer of 2016. It was at the end of the second session that he found out that he'd earned the commandant's trophy. "I was shocked," recalled Dow.
He was even more surprised because the first VMI cadet to earn the commandant's trophy, Anthony Harvey '15, was an acquaintance of his, and he'd never once thought that he'd replicate Harvey's success. "I was shocked that I was getting the same award that he had received when I was a rat," said Dow.
Ridings and others who know Dow weren't shocked, though—just pleased to see two cadets out of the more than 350 who've attended OCS in the last 15 years receive the coveted trophy.
"[Dow] is a young man of character," said Ridings. "It's that character that helps define him as a young man, and it helps shape a commitment and a conviction that he has for life. He knows it's not about him, but it starts with him. He will be exceptional, without a doubt."
-Mary Price
-VMI-