Math That Matters Teaches Interdisciplinary Skills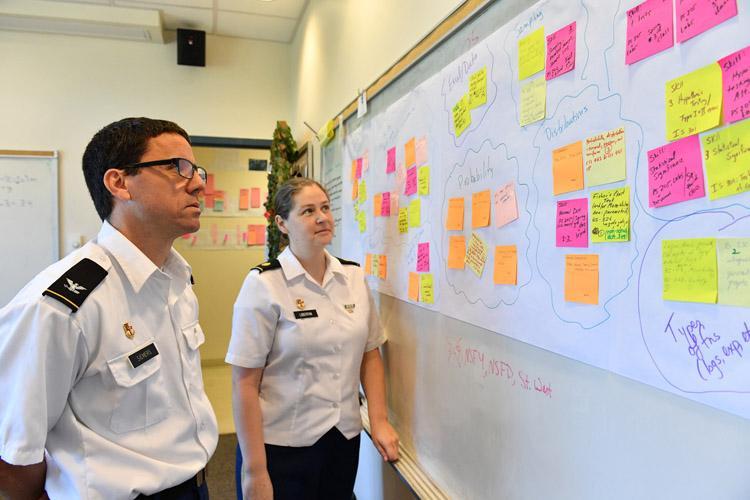 LEXINGTON, Va., May 31, 2017 – A new and reinvigorated math curriculum for 4th Class cadets whose majors do not require calculus is drawing closer to launch.
Math That Matters: Math for the Modern World, a mathematical modeling approach that strives to teach new cadets the quantitative skills necessary for their majors, will be implemented in the fall of 2018.
The new curriculum is part of the quality enhancement plan associated with VMI's reaccreditation by the Southern Association of Colleges and Schools' Commission of Colleges. VMI is currently undergoing the reaccreditation process.
Efforts to develop the quality enhancement plan began in 2016 with the development of a conceptual framework, led primarily by Maj. Jessica Libertini and Maj. Karen Bliss, both assistant professors of mathematics. This spring, faculty from eight departments whose majors do not require calculus were invited to brainstorming sessions in which they provided input on what kind of quantitative skills their majors should have.
"This participatory modeling process allowed us to very quickly get a visual of what our customer departments value," said Libertini. "We as applied mathematicians have a sense of what mathematics is important, but it's really nice to get that affirmation from the customer departments as we put together the [quality enhancement plan]."
With that outside faculty input, Libertini and others in the applied mathematics department have developed course modules focusing on topics such as voting and democracy, travel and currency exchange, and BATtleship. The last is a play on words involving both the familiar game and research currently underway in the VMI biology department.
"It's like the game of Battleship, but it's looking for bats," Libertini explained. "It's based on [Lt. Col.] Paul Moosman's data over in biology."
To increase cadets' participation in the course and help them take charge of their own learning, cadets will be required to come up with their own real world math problem and a solution for that problem.
"Once you make it part of their lives, when you get information from their majors, from athletics, from ROTC, from whatever, they have to come up with a project that is theirs," said Col. Troy Siemers, chair of the Department of Applied Mathematics. "I don't think there has ever been a math class where people had to come up with their own project as a freshman and defend it."
Col. Turk McCleskey, professor of history, knows more than a little something about coming up with his own project. McCleskey, whose specialty is American history, uses quantitative skills in his research on a regular basis as he analyzes lawsuits filed in courts on the colonial American frontier. Over the past several years, he's also partnered with faculty from other departments, including electrical and computer engineering and economics and business, to conduct interdisciplinary research.
"Historians are naturally interdisciplinary because we're concerned with human behavior in a lot of different ways," explained McCleskey. "We're trying to show cadets not only that math is relevant but also how to use a teamwork approach for solving problems."
He noted that historians use descriptive statistics such as mean, median, average, and standard deviation in their day-to-day work.
"If you have those things, you can describe groups," McCleskey said.
"What's more, those quantitative factors can be used to describe change over time," he continued. "Numerical change over time is partly what calculus is about, and it's also what history is about. There's more of a connection between math and history, at least at a high altitude, than people often associate."
This summer, two cadets will continue work on the quality enhancement plan. Stephen Reibach '18 and Anthony Tarnowski '18, both applied mathematics majors, will take some of the proposed modules for the new courses and develop them for implementation in a classroom setting.
"They're going to help us develop modules from a cadet perspective," said Libertini. "It's helpful for them because they get to flip roles. They're used to be the students, but now they have to think about how is the classroom time actually planned, what is it that we can do in the classroom."
Final steps before the quality enhancement plan is implemented include approval by the core curriculum oversight committee and the academic board.
- Mary Price
-VMI-