Career Ambassadors Guide Cadet Connections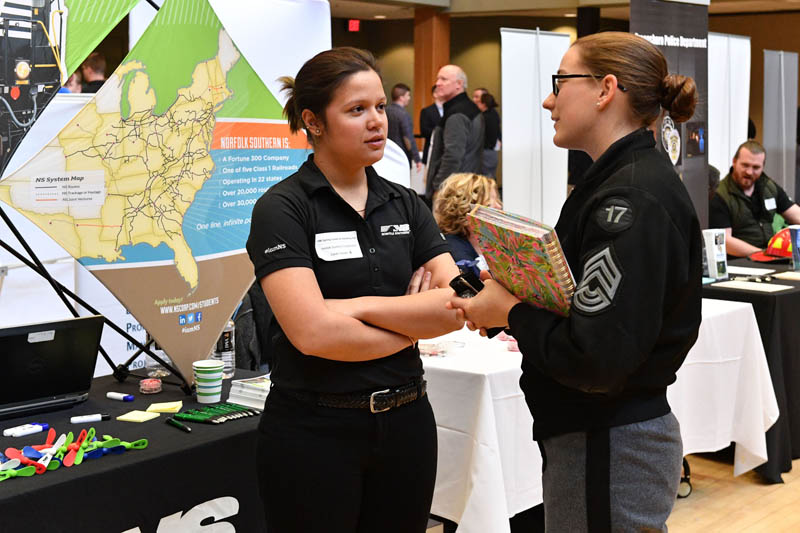 LEXINGTON, Va., March 27, 2017 – From local police departments to global corporations, employers seeking to recruit VMI cadets into their ranks filled Marshall Hall Feb. 28 for the spring career and internship fair, organized by VMI's Office of Career Services.
Leading up to and throughout the career fair, the office's career ambassadors – cadets charged with helping their fellow cadets take advantage of career services' resources – were working with visiting employers to help make the event a success.
The office's career ambassadors have been helping their fellow cadets navigate the career search process since 2008, providing expertise and pointing cadets towards the resources offered by the Office of Career Services.
"Knowing that I can help someone in their job search is really rewarding," said Samantha Boney '17, cadet in charge for the career ambassador team. "It's rewarding to see the relief cadets have when they use the online resource library and other tools."
Those resources include the web-based KeydetConnect tool, which allows cadets to keep track of employment and networking events on post, organize their job search documents, and contact employers.
In addition to assisting with career fairs, career ambassadors help to set up smaller-scale employer information sessions on post. That gives them a chance to learn more about what employers value and to better serve their peers.
"Whether or not I'm interested in working for them, they all provide me with answers to any questions I may have about their particular line of work and what they're seeking," said Kerisha Goode '18, cadet in charge of the spring career and internship fair. "That way, when and if myself or any other cadet is seeking a job in that field, I'll already know what they're looking for."
It also gives the career ambassadors the opportunity to make new connections with visitors to post.
"The employers and cadets at career events are very grateful and appreciative of our work," said Ben Sternfield '17, who has been a career ambassador for the past two years. "Several employers have thanked me personally for helping them move things to and from their cars as well as set up and take down their tables at the career fair."
That engagement is one reason that the program is so valuable.
"My experience as a career ambassador has been unlike any other job I've held thus far," said Goode, noting that it was her favorite, "for hundreds of reasons. The number one being the personal experiences, as well as the consistent engagement and interactions."
And those interactions have a major impact for cadets exploring their career options.
"Everyone I have helped has been very appreciative," said Boney. "I love that they come back and update me on their job searches and tell me who's replied to what."
Another resource that career services has been developing with the help of its cadets is the career services blog.
"The blog's content is focused on common career and professional development topics," said Dorothy Hayden, assistant director of the Office of Career Services. "Career ambassadors and cadet contributors share their insights on career exploration, career planning, and their experiences with different internships."
That growing resource, which includes helpful posts such as "5 Reasons to Consider Federal Employment" and "Use this Tool to Network," is available at sites.vmi.edu/careerservices.
– Maj. John Robertson IV
-VMI-