'Putting Together the Puzzle'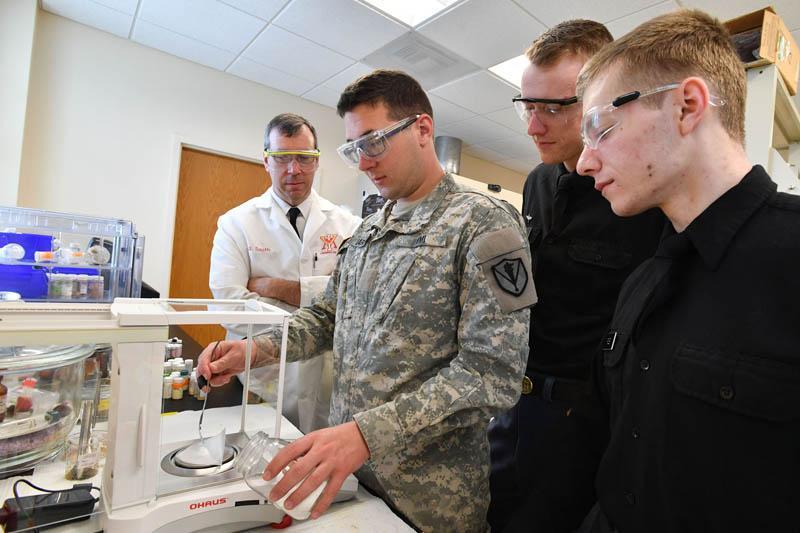 LEXINGTON, Va., March 27, 2017 – Science is all about trial and error – and sometimes, things that don't work in the expected way do work in another way.
Five cadets working alongside Col. Stan Smith, professor of chemistry, have learned that lesson this academic year as the compounds they've been creating as potential remedies for malaria have proven to be effective instead against leishmaniasis, a parasite-borne disease common in the tropical and subtropical regions of the world.
Smith, an organic chemist, has been working for the past four years with scientists at the Walter Reed Army Institute of Research to develop compounds effective against malaria, a mosquito-borne disease that can be fatal.
The compounds he sends to Walter Reed are also tested routinely against leishmaniasis, since the two diseases share some similarities. Leishmaniasis, which is caused by the bite of an infected sandfly, infects about 2 million people per year. The disease can affect the skin, causing large, ulcer-like lesions, and it can affect the internal organs or sinuses.
Smith, though, wasn't expecting to be developing compounds against leishmaniasis. He was working along on the malaria project when a phone call with his contacts at Walter Reed yielded surprising news. "Somewhat recently, we've had several good results with compounds we've sent against leishmaniasis," Smith commented. "We sent about 12 to 15 compounds, and one third to one half of them showed very good to super activity against leishmaniasis."
The cadets who've worked alongside Smith say that it's been a roller coaster ride of highs and lows, as some compounds work while others do not – and there's little way to tell in advance which ones will fall into which category.
"I'm a little too stubborn to know when to quit," admitted David Lafuze '18 of his decision to persist with the research. "It's kind of cool making new compounds that, at least in the literature, no one has ever made before, but it's challenging when there are compounds that we've tried and tried to make but we've never actually been able to make it."
Like Lafuze, Devon Kirk '17 has seen things go well in the lab, and he's also seen things go not so well. "I've learned to be patient and persistent," he commented. "Sometimes things don't work the way you want them to the first time, so you need to come back and reevaluate … figure out a better way to work it out."
Kirk said he's been heartened to hear that the compounds sent off to Walter Reed for testing are effective against leishmaniasis, even though they were intended to fight malaria.
"Something's better than nothing," Kirk stated. "It's great just to see results. It is rewarding."
Justin Rose '17 originally joined Smith's research effort as a stepping stone to graduate school, but over time he's experienced the reward of being able to apply the classroom knowledge he's accumulated over his cadetship.
"I've been recollecting all of the chemistry I've learned over the past few years and putting together the puzzle of how I want to tackle these problems," said Rose. "Sometimes the work you have in your lab just clicks with what you learned in class, and it really solidifies the foundation we get in lecture."
Rose agreed with Kirk that finding their compounds effective against leishmaniasis has been surprising in a good way. "It's great that we're making strides in some area," he continued. "This is something that we really can't predict, but we'll take any beneficial scientific advancement that we can."
Going forward, Smith plans to do more research to see what makes these particular compounds effective against leishmaniasis. "We're trying to further define the structure/activity relationship among the compounds and their effects against leishmaniasis," Smith stated. "Very small changes in the structure can have big differences in activity."
Other cadets working on the malaria/leishmaniasis project alongside Smith this year have been Yueh-Sheng Lin '17 and Roi Pineda '18.
- Mary Price
-VMI-