Gen. Jumper to Speak at VMI Graduation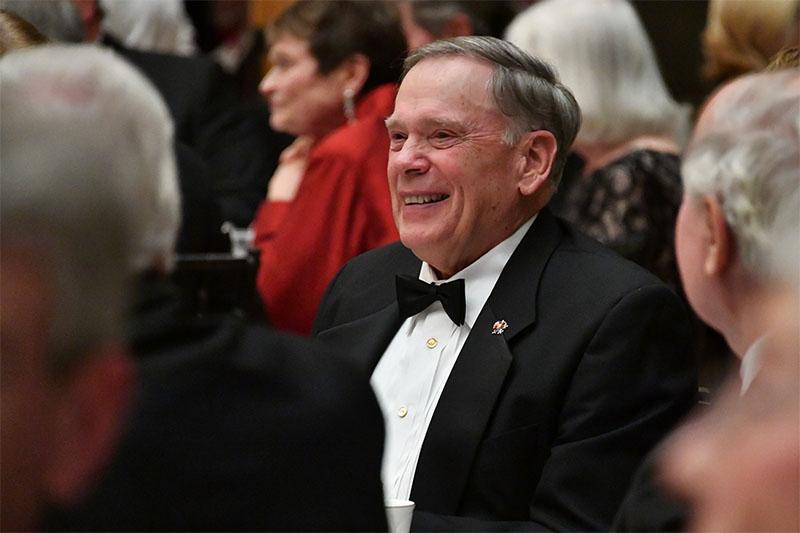 LEXINGTON, Va., March 31, 2017 – Retired Gen. John P. Jumper '66, President of the Virginia Military Institute Board of Visitors and former U.S. Air Force Chief of Staff, will speak at graduation ceremonies for the VMI Class of 2017, to be held 11 a.m., Tuesday, May 16, in Cameron Hall.
Gen. Jumper's 39-year military career included time spent as a wartime commander during conflicts in Iraq, Serbia, and Kosovo. He also served at the Pentagon as deputy chief of staff for air and space operations, and as senior military assistant to two secretaries of defense, Dick Cheney and Les Aspin. As a pilot, he accumulated 5,000 flying hours, including 1,400 combat hours in Vietnam and Iraq.
After stepping down as Chief of Staff in September 2005, he became Chairman and Chief Executive Officer of the defense contractor SAIC. During his time there, SAIC spun off a new public company, Leidos, and he continued to serve as Chairman and CEO of that company until he retired in 2014.
Gen. Jumper currently serves on the board of Leidos, as well as Hyster-Yalem, NACCO Industries, and Rolls-Royce North America. He also serves on the boards of the Marshall Foundation, the Museum of the American Revolution, and the Air Force Village Charitable Foundation. He and his wife, Ellen, live in Spotsylvania, Virginia. They have three daughters, all of whom have served in the Air Force.
VMI's graduation week events will begin Sunday, May 14, with the Institute Awards ceremony, to be held at 11 a.m. in Cameron Hall. The cadet change of command parade will take place that same day at 2:30 p.m.
On Monday, May 15, a ROTC commissioning ceremony will be held at 9 a.m. in Cameron Hall. The New Market Parade and Ceremony will begin at 2 p.m., to be followed by the superintendent's reception at 4 p.m. Visit vmi.edu/graduation for more information on the week's activities.
Tickets are required for those attending Tuesday's graduation ceremony. The ceremony will be simulcast in Gillis Theater (Marshall Hall) for individuals without a ticket. Graduation will also be live streamed at vmi.edu/livestream beginning at 10:30 a.m.
-VMI-