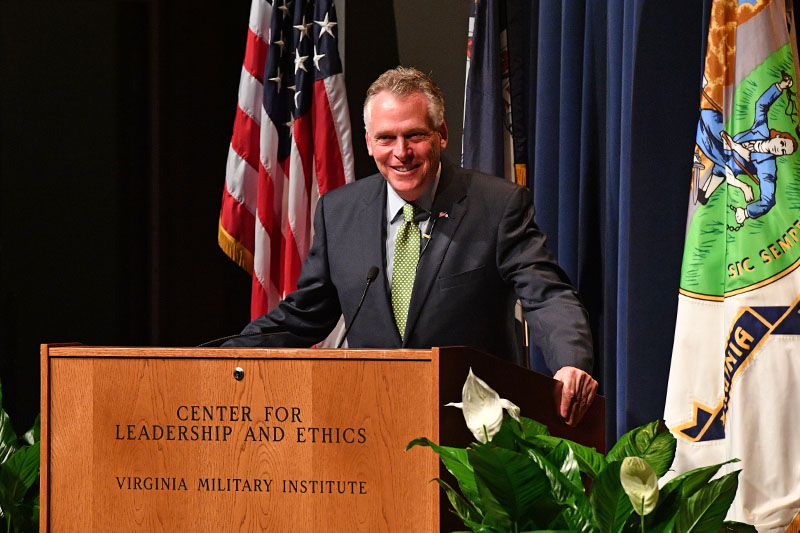 LEXINGTON, Va., April 5, 2017 – Appearing for the third time in his four years as governor at the Environment Virginia Symposium, Gov. Terry McAuliffe showcased the commonwealth's progress on environmental issues in a speech given earlier today in Marshall Hall.
Now in its 28th year, the symposium brings together individuals from government, academia, and private industry to discuss current environmental issues. Approximately 600 people are attending this year's event, "Virginia's Environment: Shaping a Sustainable Future," which is being held today and tomorrow in Marshall Hall.
Now in his final year as governor, McAuliffe kicked off his remarks at VMI by highlighting the interconnection between economic development and environmental issues.
"You cannot grow an economy without protecting your natural assets," the governor declared, adding that tourism is a $23 billion business each year in Virginia while unemployment claims are at a 44-year low.
"We in Virginia are sending a message that we are going to protect our environment," he said. "We're leaning in."
As evidence of that, McAuliffe pointed to the recent $50 million commitment from DuPont to clean up a mercury spill in the South River near Waynesboro – the largest environmental settlement in the history of the state.
"If you come in and harm our resources we are going to come after you," McAuliffe vowed. "I don't care who you are … You are going to make right what you did wrong."
The governor noted that much progress has also been made toward improving the health of the Chesapeake Bay, a body of water that he called "a trillion-dollar asset." He added that the bay's water quality investment fund has been fully funded a decade ahead of schedule, and its oyster and crab populations have rebounded dramatically in recent years.
McAuliffe also criticized President Donald Trump for his efforts to weaken environmental protections, specifically his proposal to eliminate all funding for Chesapeake Bay cleanup and to roll back the Obama administration's clean power plant initiatives. The governor said he has signed an executive order to continue the initiatives as planned.
"At the end of the day, I don't care what the federal government does," McAuliffe said. "We here in Virginia have to lean in on the environment and we're going to lean in on the environment."
On issues related to coal ash and fracking, McAuliffe emphasized that his administration takes a cautious approach.
"This is our land," McAuliffe said in reference to fracking. "I want to know what's going into the land."
Looking toward future energy sources, McAuliffe stressed the importance of renewable energy such as wind turbines and solar panels. "We've got to get in the game [on renewable energy]," he said.
Renewable energy will be a key to the future for rural communities in economically depressed areas, McAuliffe predicted. He noted that while Virginia is considered a key state for coal production, just over 1,000 people in Virginia currently work in the coal business, out of a total workforce of 4.3 million.
"[Renewable energy will provide] the jobs for the 21st century," said McAuliffe. We've got to be moving forward aggressively."
Throughout his remarks, McAuliffe mentioned that while much has been accomplished toward providing Virginians with a cleaner and safer environment, now is not the time for complacency.
"We're leaning in here on the environment," the governor stated. "We're making great progress on our air, our water, and our land. We have a long way to go. We cannot take our foot off the gas."
-Mary Price
-VMI-