VMI Among MacArthur Award Winners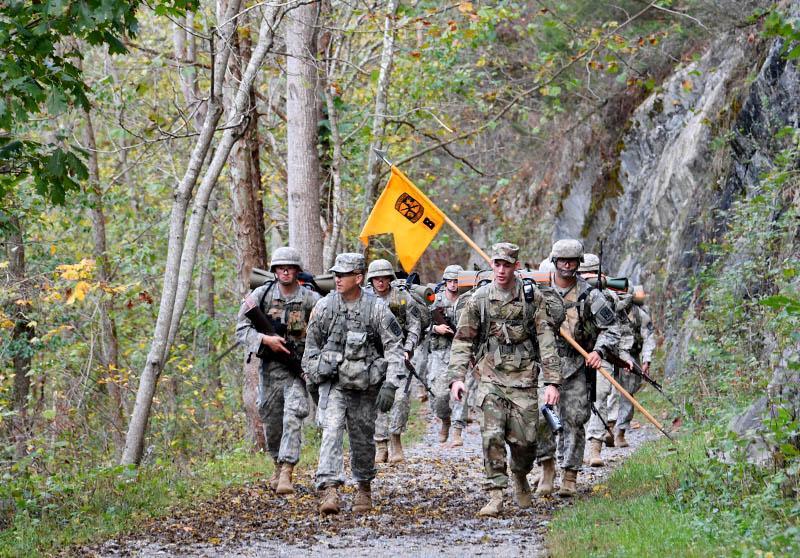 LEXINGTON, Va., Feb. 15, 2017 – For the third time in the past four years, the U.S. Army Cadet Command has named VMI among the eight winners of the MacArthur Award for the 2015-16 academic year.
VMI's Army ROTC program was selected for the award from Cadet Command's 1st Brigade, made up of the six senior military colleges and six junior military colleges.
In addition to the hard work done day in and day out by members of the Army ROTC staff, the range of support that VMI provides helps set the program apart.
"From a resources and facilities perspective, it's a good, synchronized effort in terms of training and leader development," said Col. Mike Wawrzyniak, Army ROTC commander. "The way VMI combines what the Institute does with our ROTC program makes it pretty unique, even compared to other military colleges, but certainly across the other 275 programs in the nation."
Since 1989, the U.S. Army Cadet Command and the Gen. Douglas MacArthur Foundation have named eight schools, one from each brigade with the top ROTC program, as recipients of the MacArthur Award.
This is the second consecutive year that VMI has received the award, and the recognition is motivation to keep aiming high.
"There's a benefit in terms of setting our standards high and setting our goals high in order to keep that same trend going forward," said Wawrzyniak.
The award is based on a combination of the school's success in achieving its commissioning mission, the ranking of cadets on the National Order of Merit List, and cadet retention rate.
"It's a combination of how well you meet your mission in terms of number of officers, but also how well you maintain your training program in terms of quality," said Wawrzyniak.
Last year, VMI Army ROTC commissioned 124 officers, exceeding the assigned mission of 110.
This year, VMI produced 35 Distinguished Military Graduates, 13 of whom were ranked in the top 10 percent of cadets nationwide. Two cadets were ranked in the top 10, including John Luke Phillips '17, who was ranked first.
Army ROTC is the largest ROTC program at VMI, providing military instruction to about two-thirds of the Corps of Cadets.
–VMI–