Volunteers Enhance the Jackson House Experience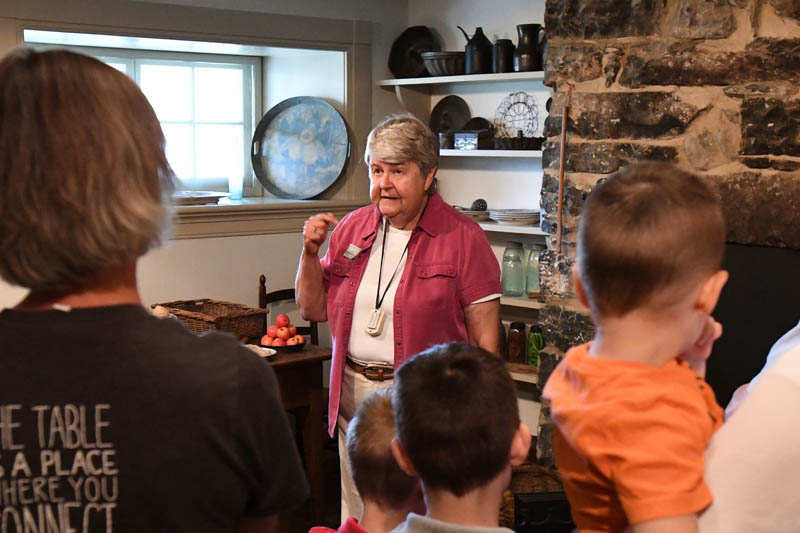 LEXINGTON, Va., Feb. 13, 2017 – Changes are being planned as the March 1 season opening approaches at the Stonewall Jackson House. Those changes, to be completed later this year, will create more room for interpretive space in the Jackson House and will provide improved amenities housed in the neighboring Davidson-Tucker House.
One thing will that remain the same, however, is how much the staff relies on the volunteers who give countless hours of their time to make sure visitors have the best experience possible.
Approximately 60 people currently volunteer at the Stonewall Jackson House in capacities ranging from gardener to shop clerk to tour guide. The house held its most recent volunteer orientation Feb. 16, and new volunteers are always welcome
The volunteers are so crucial, new site director Grace Abele notes, that without them, the house would not be open to visitors.
"Without the dedicated service of our volunteers, the Stonewall Jackson House would not exist," said Abele. "They bring with them a lifetime of experience that allows them to successfully educate, entertain, and serve the public. I consider myself blessed to work with such a remarkable group of people from all walks of life."
Those who currently volunteer at the Stonewall Jackson House, which is owned by VMI, say that they most enjoy meeting new people, serving the community, and learning more about Lexington and its citizens on the eve of the Civil War.
"I enjoy meeting with other volunteers and making new friends with people who appreciate history as I do," said Mac Lynch, who's been a volunteer since 2014. "I also enjoy meeting the visitors who come from all over the world. No two tours are the same: some visitors know more about Jackson than I do, and others are barely aware of him. I am challenged to gear my tour to the knowledge level and interests of the visitors."
Like Lynch, Lavonne Demsky enjoys meeting new people. "We get to meet so many people that are interested in learning about Stonewall Jackson the man – how he wanted to have a home and a family of his own." She also emphasized how much she's liked getting to know the staff and the other docents. "I feel that I've made many friends," Demsky said.
The Jackson House continues to serve as a center around which VMI's ties with the community are strengthened.
Another volunteer, Tamara Teaff, said, "One of the most fulfilling aspects of volunteering is becoming part of the Stonewall Jackson House 'family.' The museum staff treats each volunteer with respect and offers sincere appreciation for the contributions of the volunteer's time and specific talents. Volunteers are valued as a contributing part of the museum community."
- Mary Price
-VMI-