Alumni Return as Faculty Members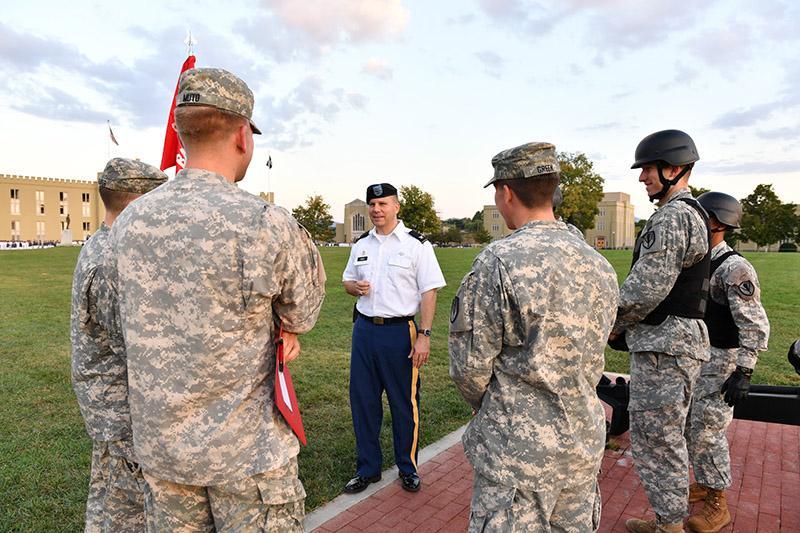 LEXINGTON, Va., Oct. 6, 2017—At this fall's orientation for new faculty and staff, at least three faculty members needed less help than most in learning about VMI culture, customs, and history—because they'd been here themselves as cadets.
Joining the faculty this academic year have been Capt. Henry A. Wise III '05, an instructor in the Department of English, Rhetoric, and Humanistic Studies; Col. Tom Timmes '92, associate professor of civil and environmental engineering; and Col. Dean Kershaw '68, adjunct instructor of civil and environmental engineering.
Wise, who holds a master of fine arts from the University of Mississippi, had been aware of VMI since childhood thanks to his impressive family legacy. His great-great grandfather, John Sergeant Wise, was one of the cadets who fought at the Battle of New Market, and one of three Wises overall in the battle. The new faculty member's grandfather, Henry A. Wise '27, wrote Drawing Out the Man: The VMI Story, a history of the Institute published in 1978. An uncle, Richard "Dick" Wise, graduated with the Class of 1968.
Growing up, Henry Wise III had thoughts of coming to VMI, but he wasn't set on it until he attended an open house in high school and got to spend time with cadets in barracks. "I just wanted to see if I could do it," said Wise of his decision to matriculate at VMI.
After graduation, Wise spent several years teaching English in Taiwan. After earning his MFA degree at Ole Miss, he became an adjunct faculty member there, but he kept in touch with his faculty mentors at VMI, among them Col. Rob McDonald, Col. Bill Badgett '53, and Col. Emily Miller.
"It's been a really positive experience [coming back to VMI]," said Wise. "I just find that there's a real idealism here, which is really refreshing … I think cadets really want to live ethically, for the most part."
This semester, Wise is teaching three sections of English 101, a college writing class for 4th Class cadets, as well as a course on American gothic writing.
Outside of the classroom, Wise has joined Maj. Mary Atwell as a faculty advisor to Cadence, VMI's literary magazine. As a cadet, Wise was editor of the magazine when it was known as Sounding Brass. "I think Cadence has really improved over the years," Wise noted.
Like Wise, Timmes knew VMI alumni before he matriculated—but in the case of Timmes, the alumni were Army officers serving under his father at Ft. Bragg, North Carolina. Both Maj. Robert Murray III '72 and Col. William Faistenhammer '74 knew Timmes as a high schooler, and it was their stories of life at the Institute that first piqued the teenager's interest.
After graduating from VMI with a degree in civil and environmental engineering, Timmes commissioned into the Army Medical Service Corps, where he was able to put his degree to work in the areas of water and wastewater management. At the end of October, Timmes will retire from the Army, having concluded a 25-year career.
That career took Timmes to places he'd never imagined as a cadet, including Johnson Atoll, a U.S. territory near Hawaii, where he helped to demilitarize chemical weapons. While serving as the division environmental science officer for the 82nd Airborne, Timmes was deployed to Uzbekistan, Kazakhstan, Macedonia, and Norway.
At the time the terrorist attacks of Sept. 11, 2001, took place, Timmes was working in Maryland at Aberdeen Proving Ground. He was chief of Army field water at the time—and thus it was his job to make the call as to when the water in the Pentagon would be safe to drink again. Thanks to his work on that project, Timmes was named Maryland's outstanding young engineer of the year for 2002. For this honor, he was profiled in the VMI Alumni Review.
Later, Timmes found himself teaching at the U.S. Military Academy. "What I enjoyed most in the Army was teaching," explained Timmes. When he heard of an opening to teach at VMI, he didn't need to think twice.
"If I go back to VMI, I can continue to invest in this next generation," he said.
Kershaw, Timmes' colleague in civil and environmental engineering, is likewise glad to be back at VMI. After growing up in New Jersey, he found the Institute through a high school teacher and eventually spent 29 years in the Army Corps of Engineers. After retiring from the Army in 1999, Kershaw went to work in private industry.
Ten years ago, Kershaw and his wife built a house in Rockbridge County. At first, he was commuting to Northern Virginia, but he's recently begun working from home and found himself with time to fill. Seeking to give back to the Institute, Kershaw not only applied to teach at his alma mater, but he is also currently in training to become a docent at the Stonewall Jackson House.
Not surprisingly, Kershaw sees a lot of differences between the cadets of the 1960s and the cadets of today. "The biggest difference is that I find the whole Corps to be much more relaxed than we were in the '60s," said Kershaw. "We were uptight for several weeks after Cadre [Week]."
Like Timmes and Wise, Kershaw has welcomed the chance to return on the opposite side of the lectern. "[VMI] reinforced my sense of integrity," he remarked. "I wanted to do something to give back to the Institute. … It's my job to make sure that graduates can perform in the military or the civilian world."
- Mary Price
-VMI-