'There Are Opportunities Everywhere'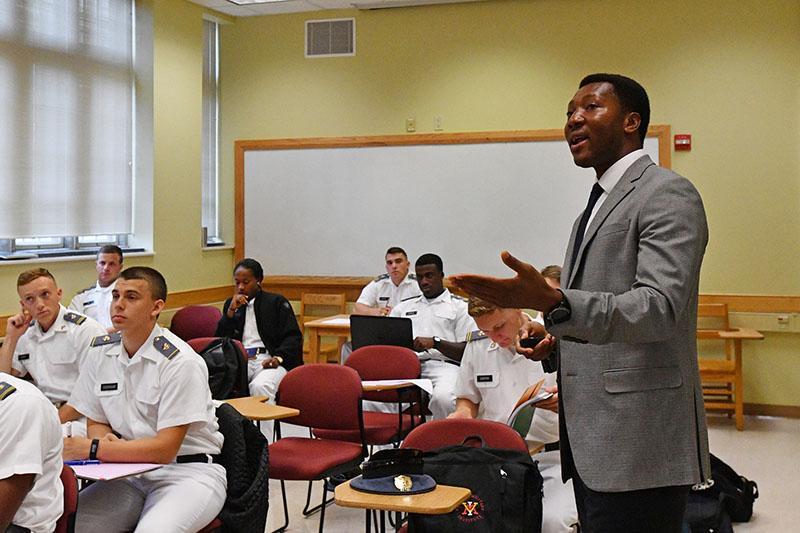 LEXINGTON, Va., Nov. 9, 2017—Dr. Dekuwmini "Dee" Mornah is passionate about teaching entrepreneurial thinking—so much so that he's willing to take cadets as far as Africa to inculcate that lesson.
Mornah, assistant professor of economics and business and a native of Ghana, is planning to take cadets to that West African nation next summer to learn alongside students from Ashesi University, a private liberal arts school in the Ghanaian capital of Accra.
Together, the students will explore ways to generate more tourism in Ghana by developing business models for tourist attractions centered around the nation's abundant natural resources.
"We have the highest mountain in West Africa, and many waterfalls," explained Mornah. However, these natural attractions are usually not accessible to tourists. "You can go to the highest mountain, and on the other side is a beautiful waterfall, but it's undeveloped," Mornah continued.
As an economist interested in helping his native land develop its full potential, Mornah sees opportunities for economic development every time he goes home, as he did this summer when he spent 12 weeks in Ghana preparing for next year's study abroad experience. His efforts in developing the study abroad program and the entrepreneurship course are being supported by a Jackson-Hope New Directions in Teaching and Research Grant.
"I realized each time that I went to Ghana that there are opportunities everywhere," said Mornah. "When I go there, I see opportunities. I can imagine cadets working alongside other students—they will see opportunities that the communities themselves otherwise don't see."
Mornah explained that plans so far call for 15 to 20 cadets to travel to Ghana next June and July. There, they will work in three- to four-person teams with students from Ashesi University. Because English is the native language of Ghana, there will be no language barrier, and Mornah expects the two groups of students to learn from each other and challenge one another's thinking.
"That cross-pollination of cultures will elicit more creativity," he said.
Closer to home, Mornah has redesigned the entrepreneurship course he teaches each fall with the goal of helping cadets see the interconnectedness of all of their coursework within the department. Last fall, Mornah implemented a new concept in the class when he gave the cadets $5 each and an assignment: use the seed money they'd been given to start and run a business for two hours.
The two-hour entrepreneur, as the project was dubbed, was a success, with many cadets seeking to fill a need for their fellow cadets, such as delivering fast food to barracks. This time, though, Mornah decided to push the learning deeper by giving them $10 instead of $5, and having the cadets run the business twice.
Between rounds, they're expected to develop a list of problems encountered while running the business and come up with an accompanying list of possible solutions, drawing on their previous course work in economics and business.
"The department has been trying to do curriculum integration—they want the [cadets] to see how the different courses are interrelated," explained Mornah.
And the cadets' learning should continue even after they've finished the entrepreneurship course. Mornah's plans call for the cadets to create detailed business plans for their businesses as part of the capstone course that's required for economics and business majors.
More than anything else, Mornah hopes cadets will learn that running a business is not a one-time, static endeavor. "Business is an agile process," he noted.
- Mary Price
-VMI-