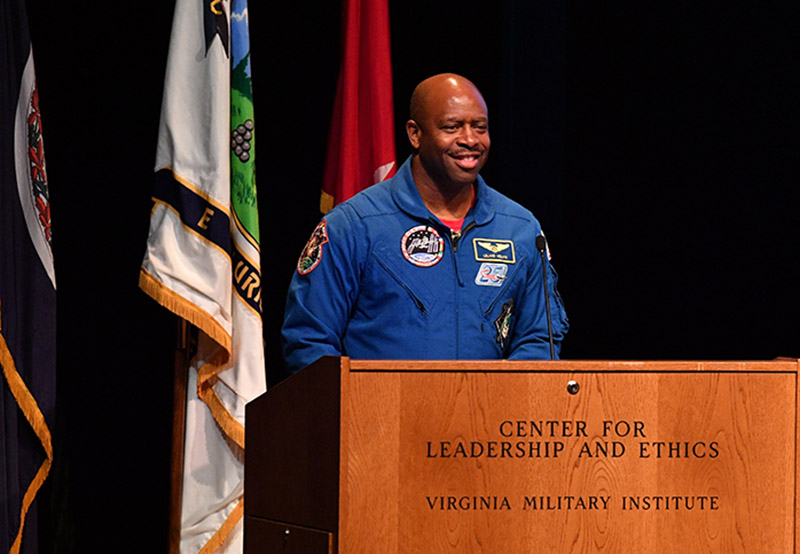 LEXINGTON, Va., Oct. 4, 2017—Nearly 300 school teachers and administrators arrived at VMI this week to learn about new techniques and ideas to take back to their classrooms at the 6th annual VMI STEM Education Conference.
Renowned astronaut, football player, and engineer Leland Melvin kicked off the conference by talking about how the teachers that he encountered throughout his life influenced him.
Both of Melvin's parents were middle school teachers in his hometown of Lynchburg and encouraged him to explore and learn, he said during his keynote address Tuesday morning.
As a child, he wanted to be a tennis player like Arthur Ashe and Althea Gibson, the first African Americans to win major tennis tournaments. Both were coached by Walter Johnson, Lynchburg physician and tennis fanatic, who lived a few blocks from where Melvin grew up.
When Melvin was older, his dad brought home a bread delivery truck and announced that it was to be the family's camper. Melvin didn't believe it. His dad had this vision of transforming the truck into a camper.
"I didn't know it, but I became an engineer that summer," he said. "We have to make sure our kids can see past the labels."
Melvin said that teachers need to find ways that motivate children to go into STEM fields, like video games or music.
He said often when he visits schools and asks who wants to be an astronaut when they grow up, mostly boys raise their hands, no girls. He added, teachers need to be using the right language to reach students.
Melvin continued his science and engineering studies at the University of Richmond while also playing for the football team. The dual passions in his life led to the Dallas Cowboys training camp and to his studies for a master's in materials science engineering at University of Virginia.
Hamstring injuries sidelined his football career, but friends at U.Va. nudged him towards the NASA astronaut program. During his NASA training, Melvin was sidelined for a second time after a failure in his helmet cause temporary deafness. He thought that he would never be able to overcome that hurdle to fly in space, but he did.
"When talking to kids about their journey … this journey will have many pitfalls but you keep going," he said.
He went to space twice, once in 2008 and again in 2009.
While up among the stars, Melvin said his "aha moment" was eating Thanksgiving dinner—including rehydrated turkey—with astronauts from all over the world at the International Space Station.
Many astronauts refer to developing an "orbital perspective" from looking at the Earth from space, he said. After retiring from the astronaut program, Melvin said he realized "my job now is to pass that [orbital perspective] on."
Melvin's journey to space is detailed in his recent book Chasing Space, which is published in editions for adults and young readers.
Throughout the two-day STEM conference, nearly 300 teachers and instructors meandered between different breakout sessions focused on techniques to be used in a classroom.
VMI cadets led a few sessions, including how to use 3D modeling software, and VMI alumnus John White'74, a meteorologist with the American Meteorological Society's DataStreme project, led a session on weather modeling.
The conference wrapped up Wednesday afternoon with a few words from Virginia Secretary of Education Dietra Trent.
Trent likened good teachers to good artists by saying they are "creating masterpieces to be sent out to the world each day."
Trent went on to highlight the achievements at the state level that have helped teachers do their job, from pulling back Standards of Learning testing at the elementary school level to giving teachers two pay raises this past year.
"There is no other job that reaches each child in America," she said.
-By Ashlie Walter
–VMI–