Donating a Liver, Extending a Life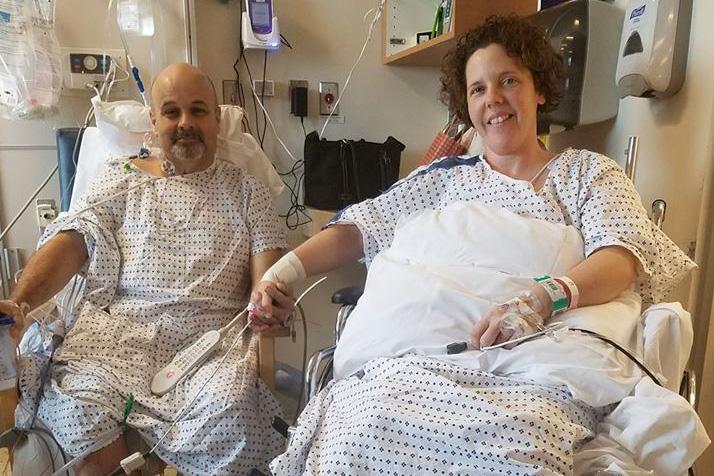 LEXINGTON, Va., Feb. 12, 2018—"It's been the most amazing experience—I would totally do it again if I could."
That's how Sgt. Beth Hunt, an investigator with the VMI Police Department, talks about the experience of donating half of her liver to Rex Miller, the husband of a friend of a friend. For Hunt, a native of Amherst who's worked at VMI for almost six years now, it was the fulfillment of a childhood dream to become an organ donor.
Two hundred miles away in Bristol, the Miller family is still trying to digest the impact Hunt's selfless act has had on their lives. "Words aren't enough to express what she's done for our family," said Rex Miller's wife, Tammy.
Hunt explained that she'd first thought of becoming an organ donor when she watched the movie Steel Magnolias. The film's main character, Shelby Latcherie, played by Julia Roberts, dies of kidney failure caused by type 1 diabetes.
Hunt's dream stayed with her throughout her college years at Randolph-Macon Women's College, now Randolph College. After graduation, she tried law school but decided it wasn't for her, and ultimately went to work in law enforcement, first at the Lynchburg Police Department and then at VMI.
Despite the challenges of a fast-paced career, organ donation never left her mind.
Four years ago, she tried to become a kidney donor, but two weeks before surgery was rejected because of a benign tumor on one of her kidneys. In the spring of 2017, Hunt began to think about organ donation again. "I felt God telling me, 'You need to do this,'" she related.
In July she contacted the University of Virginia Medical Center to start the process of becoming an altruistic liver donor, a case in which the donor and recipient don't know each other. Then she went to the beach, an annual family gathering at Cape Charles, Virginia.
Hunt was sitting in the sand drying off from a dip in the Chesapeake Bay when she saw a Facebook post from a friend, saying that the friend had another friend whose husband, Rex Miller, was suffering from non-alcoholic cirrhosis of the liver and was desperately in need of a transplant from someone with Type A blood.
"At that point in time I hadn't even told my family that I was scheduled for the testing," she recalled.
But at UVA, Hunt learned of a potential obstacle. Usually, liver donors can only donate to someone their own size or smaller, so female donors usually can only donate to other women or to children. In Hunt's case, an MRI revealed a surprise.
A few days after the scan, she was told, "You have an abnormally large liver for someone your size, so you have sufficient liver volume to donate to him."
On Hunt's birthday, Oct. 28, she met Miller, his wife, and their teenage children when they came to Amherst to visit friends. "We've become very close very quickly," she commented.
Surgery was set for Dec. 7, so Hunt could continue to work through the final weeks of the VMI football season. In the weeks before the surgery, Hunt had another surprise. The liver has two lobes, one on the right and another on the left, and in an altruistic donation, the left lobe is always the one used because using the right is slightly riskier. Hunt's left lobe has an irregular blood vessel configuration, so she would not have been eligible as an altruistic donor. She could only donate to a designated individual.
For Hunt, that news was even more proof that she was meant to donate to Miller. "It was just crazy timing," she stated. "Everything just fell into place so completely."
After the surgery, Hunt only stayed in the hospital two days before going home to recuperate. "It wasn't bad," she recalled of her post-surgical experience.
On Jan. 18, six weeks after the surgery, Hunt returned to work. She's passionate about spreading the word about organ donation.
State employees, she explained, get an automatic 30-day leave period after an organ donation. "I haven't even touched my sick leave," she noted.
According to the website donatelifevirginia.org, more than 3,200 Virginians are waiting on a life-saving transplant right now. Hunt is doing everything she can to make sure that list grows shorter by persuading others, particularly those who don't know much about organ donation, to sign up.
"I don't think many people realize you can donate while you're alive," said Hunt. She added that three types of donation—bone marrow, kidney, and liver—can come from living donors. In the case of the liver, the organ regenerates itself after a transplant, so Hunt's right lobe will grow back.
In any case, Hunt is thinking much more of Miller—who now has years of life ahead of him—than she is of herself. "It's surgery, but when you can compare some minor pain and some minor inconvenience to somebody dying, it's no contest," she stated. "In the big scheme of things, it's such a small thing to do."
-- Mary Price
-VMI-