Moreschi Named Dean of the Faculty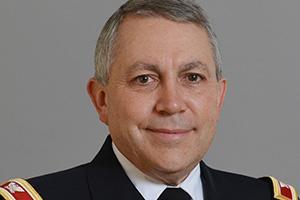 LEXINGTON, Va., May 24, 2018—Col. Robert "Bob" Moreschi, a 16-year veteran of the VMI faculty and chair of the Department of Economics and Business since 2013, has been chosen to succeed Brig. Gen. Jeffrey Smith Jr. '79 as deputy superintendent for academics and dean of the faculty. He will become VMI's 11th dean.
"Colonel Moreschi has a strong background in teaching, scholarship, and academic leadership, and is highly respected and admired by the VMI family," said Gen. J.H. Binford Peay III '62, the Institute's superintendent. "He is a seasoned department head and is prepared to lead our academic program as VMI enters its 179th year."
In his time at VMI, Moreschi has taught hundreds of cadets and has overseen a department of 13 full-time faculty, seven part-time faculty, and 225 majors. In 2014, Moreschi led his department's successful bid for reaccreditation from the Association to Advance Collegiate Schools of Business (AACSB). He has served as the John and Jane Roberts Institute Professor in Free Enterprise Business since 2016. Since 2002, he has served as an adviser to the Cadet Investment Group, and for the past two years was the faculty representative to the VMI Foundation Board of Trustees.
"To be selected as deputy superintendent for academics and dean of the faculty is a distinct honor, made more so because of the support I have received from faculty and staff across the post," Moreschi said. "I believe I can use my VMI experience, coupled with management capabilities honed in the business world, to reinforce a sense of mutual respect to this academic community, and can build a team in which all stakeholder voices are important and heard."
Before coming to VMI, Moreschi worked in the financial services industry for 14 years as an equity analyst and a senior manager. He is currently serving as the president of the Academy of Financial Services and is an associate editor of the Journal of Personal Finance. He is a past associate editor of the Journal of Economics and Finance.
His community activities include serving as a member of the audit and oversight committee of Kendal at Lexington and since 2012 and as treasurer of Lexington Presbyterian Church. He is a ruling elder of Lexington Presbyterian Church, was a board member of the United Way of Lexington/Rockbridge, and a long-time member of the Lexington Kiwanis Club.
Moreschi holds a master's degree and doctorate in economics from the University of Illinois at Urbana-Champaign. He received his undergraduate degree from Augustana College. He will assume his new duties July 1 and be promoted to brigadier general in the Virginia Militia. Smith, who has served as deputy superintendent for academics and dean of the faculty since 2014, plans to join the VMI faculty after a brief leave.
-Mary Price
-VMI-