Sandhurst, VMI Swap Professors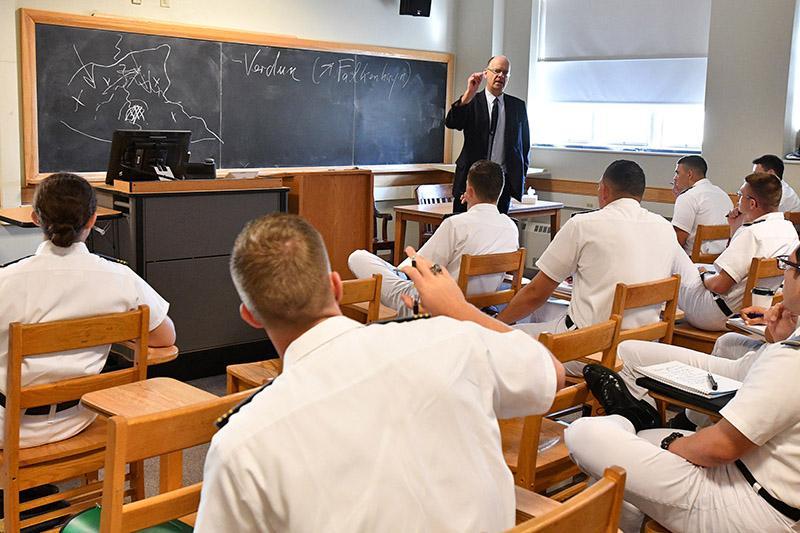 LEXINGTON, Va., Oct. 13, 2017—There's an old saying that history sometimes repeats itself. For the VMI Department of History, that saying has come true this academic year as Col. Geoff Jensen is teaching at the Royal Military Academy Sandhurst, Britian's training ground for future Army officers, for the second time in his academic career.
Jensen, professor of history, first participated in a faculty exchange program with Sandhurst 17 years ago while teaching at the University of Southern Mississippi. During that first stay at Sandhurst, Jensen met Dr. Klaus Schmider, senior lecturer at Sandhurst, and the two have kept in touch ever since.
This fall, Schmider is teaching at VMI—and for him, it's a whole new world, as he had never been to the United States as an adult before this year.
"I wanted to do something marginally different," said Schmider of his decision to participate in the faculty exchange. "You go stale, sooner or later."
During the one-semester exchange, Schmider is teaching two courses at VMI, one on modern European land warfare from 1870 to 1945 and another on insurgency and counter-insurgency. "The first impression has been very favorable," said Schmider of the cadets he's teaching.
Schmider does see several differences between VMI cadets and their counterparts at Sandhurst—chief among them the age difference, as almost 90 percent of Sandhurst cadets already have a bachelor's degree before they arrive.
Schmider also sees a subtle but crucial difference between the two institutions. "Sandhurst is a military academy," he noted. "Military priorities will always come first." At VMI, he said, "There are intimations of a clash [between military and academic priorities] …. But when everything is said and done, academics take more of a center stage here."
Another difference that caught Schmider off guard, at least at first, was the fact that he was to design his own courses. Sandhurst's Department of War Studies, where Schmider regularly teaches, offers a set curriculum with the same courses each year.
"Here you have almost anarchic freedom," Schmider commented. "It's intoxicating, and a little bit scary."
Across the Atlantic, Jensen is teaching courses on modern military history, which includes World War II, the Arab-Israeli wars, and the Falklands/Malvinas war, among many other topics. Because Sandhurst's program of study only lasts one year, Jensen explained, the program is intense, and the Department of War Studies focuses its attention almost exclusively on 20th and 21st century military history.
For Jensen, the brevity and intensity of Sandhurst's program contrast sharply with VMI's four-year cadetship.
In an email interview, Jensen wrote, "One thing that I like most about VMI is watching the cadets develop in and out of the classroom over the years; at Sandhurst the much shorter cadetship means that I don't get to see the same kind of maturing process and long-term intellectual development among my students as I do at VMI."
Jensen also senses a cultural difference at Sandhurst, where the school's website and letterhead include the royal cypher of Queen Elizabeth II, and hints of the British aristocracy reveal themselves in a school that has horses and polo fields.
"There is also an aristocratic feeling to life at Sandhurst not found at VMI," Jensen commented. "Although it is slowly changing, overall the British Army's officer corps is still a long way from the VMI citizen-soldier ideal. Sandhurst in turn reflects this characteristic of British military culture."
Col. Mark Wilkinson, chair of the history department, noted that the exchange program allows an opportunity to "freshen things up" by giving both Schmider and Jensen the chance to teach in a different environment. "It's good for the cadets," he added.
All involved—Schmider, Jensen, and Wilkinson—expressed hope that this year's pilot exchange program will carry on in the future. "We want to press ahead with ironing out something of a more permanent nature," said Wilkinson.
- Mary Price
-VMI-