VMI Takes First In Math Competition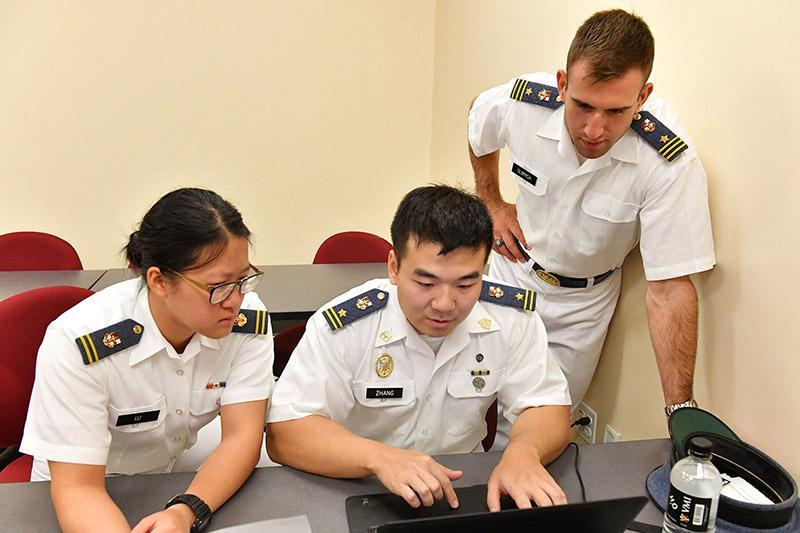 LEXINGTON, Va., Oct. 13, 2017—VMI took home the top spot at the Shenandoah Valley Math Modeling Challenge hosted by VMI Sept. 30 to Oct. 1. It was the Institute's first victory at the event since the competition was established three years ago.
The contest attracted 35 students from all corners of Virginia and surrounding states. Teams were given the choice of selecting a problem from two options and then given 23 hours to solve the problems using math.
This year's prompts were a choice between creating three presidential campaign plans in response to three different variations of the Electoral College or create a way to evacuate a back-country campground at Glacier National Park in a quick way and get rescue teams out there in case of a forest fire with little to no cell phone reception. Glacier Park also prohibits the use of the motorized vehicles in the back country.
VMI had three teams of eight cadets total participating.
Maj. Karen Bliss, assistant professor of applied mathematics, has organized the event each year. She said priority is given to cadets who have not participated in the contest before. The event gives math majors a taste of what they will have to do for their senior capstone, a 96-hour international math challenge.
Kao-Pu Chang '20 said his team picked the Electoral College prompt because it seemed more familiar to everyone. He added they put a lot of effort into the competition.
"We didn't go to sleep until 3 a.m. on Sunday morning because we had so [much data] to analyze. Analyzing vote rates of 435 districts of America is not easy at all," Chang said, adding it was worth it no matter what prize they got.
This was his first year participating in a challenge like this one. Chang said he learned a lot from his teammate Shang-Cheng Su '19 who taught him how to model and write science papers as well as improve his logical thinking.
Eric Marland, professor and chair of mathematical sciences at Appalachian State University, said he invites his students to participated in the challenge because it's a friendly atmosphere and an introduction to working as a team. His school took home the top prize last year.
The challenge is also a way to inspire students to stick with the math program.
"It convinces them to keep at it and, hopefully, that is more successful than who the winner is," he said. "I don't care about who the winner is but I care if they have fun doing math."
-Ashlie Walter
-VMI-