Statement on VMI's Place in America's Future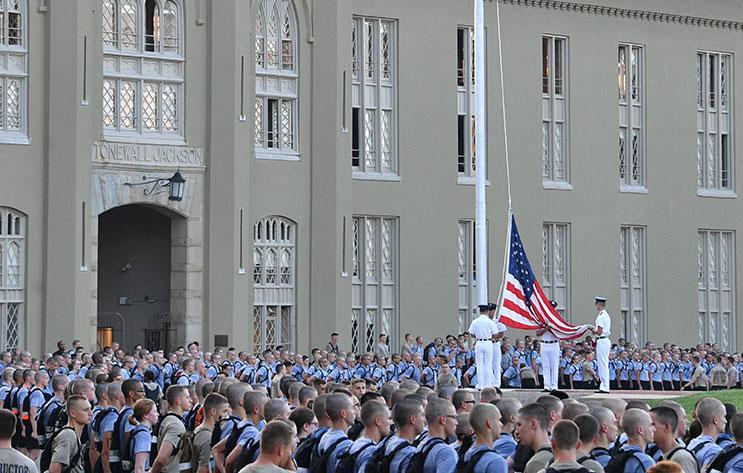 LEXINGTON, Va., Sept. 12, 2017—The president of the Virginia Military Institute Board of Visitors, John William Boland '73, and the Institute's superintendent, Gen. J.H. Binford Peay III '62 issued the following statement today:
Statement by President of the Board of Visitors and Superintendent
VMI's mission is to produce educated, honorable cadets and graduates imbued with characteristics and traits long admired by our great Nation. We produce leaders of character who are prepared and ready to serve our communities, our states, and our Nation in times of peace and in times of war. That is our singular objective. As the oldest state supported military college in the nation and a national historic landmark, VMI has produced leaders that fought in the Civil War, Mexican-American War, Spanish-American War, World War I, defeated fascism in World War II, marched for civil rights in the '60s, fought in Korea, Vietnam and the Gulf, and has seen its alumni as the best of leaders across the spectrum of industry, medicine, the law, politics, religion and business. Like the United States itself, who we were in the past only defines in part who we are today. Hate, bigotry and discrimination are wrong, do not represent the values of the Virginia Military Institute, and will always be addressed decisively. We will learn from the past and take the best from our predecessors in shaping our cadet citizen-soldiers for today and tomorrow. We achieve this objective through the Institute's challenging and demandingly unique education structured in a military environment that has served the Nation well for more than 178 years.
We will continue to learn from our history, yet be ultimately guided by our best judgment in how to achieve our mission. The safety of our cadets, faculty and staff, our Post and our community is always present in our mind. That is why, today, the VMI Board of Visitors endorses continuing to acknowledge all those who are part of the history of the Institute. We choose not to honor their weaknesses, but to recognize their strengths. We will continue to learn and not to repeat divisions. We strongly encourage all to move forward together in the defense and advancement of our Nation.
-VMI-