VMI to Present New Market Medal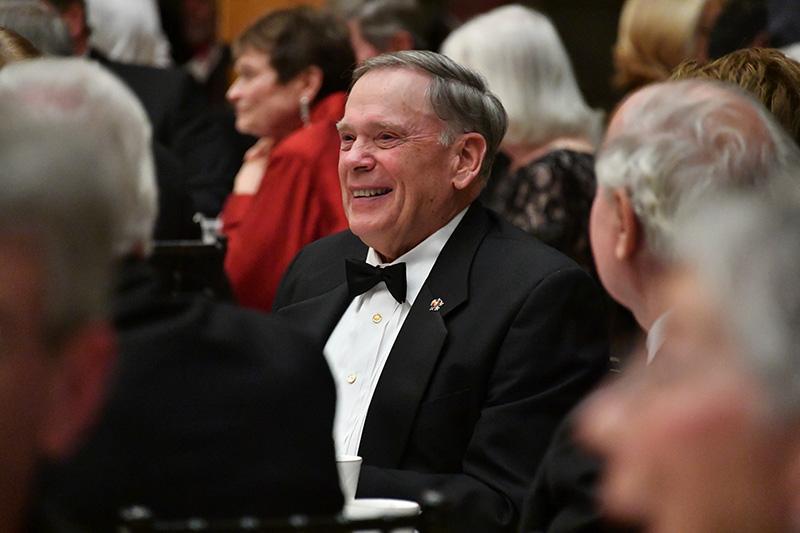 LEXINGTON, Va., Jan. 31, 2018 – Retired Air Force Chief of Staff Gen. John P. Jumper '66 will be recognized by Virginia Military Institute, his alma mater, for a lifetime of public service that reflects the values of the Institute.
Gen. Jumper will receive the Institute's highest honor, the New Market Medal, on May 15, the 154th anniversary the VMI Corps of Cadets' participation in the Battle of New Market, the only time in American history that the entire student body of college fought in battle as a unit. The victory won by the actions of the cadets came with a price: 10 cadets were killed or died of their wounds and another 47 were wounded.
The award presentation will be made on VMI's Parade Ground beginning at 2 p.m. as part of the Corps of Cadets' annual New Market Ceremony, which honors the 10 slain cadets and all VMI alumni who have died in service to the country. This is the final parade of the academic year, with graduation the following day. The event is free and open to the public.
"The story of General Jumper's career is a testament to the traits we admire in the New Market cadets and upon which the award was founded: leadership, duty, honor, and devotion," said Gen. J.H. Binford Peay III '62, superintendent.
Gen. Jumper completed a 39-year Air Force career in 2005 after serving as the service's 17th chief of staff. After that, he was named chairman and chief executive officer of SAIC, then a $11 billion public company. He led a transformational separation of the company and continued in leadership roles of the new public company, Leidos, until his retirement in 2014. He continues to serve on the board of Leidos, as well as on the boards of Hyster-Yale, NACCO Industries, and Rolls-Royce North America. He also serves on the non-profit boards of the Marshall Foundation, the Museum of the American Revolution, and the Air Force Village Charitable Foundation.
Gen. Jumper served on the VMI Board of Visitors, including a year as its president, and on the VMI Foundation Board of Trustees. He earned a bachelor's of science degree in electrical engineering from VMI in 1966. In addition to leading the Air Force in the wartime early years of the 21st century, he was a fighter pilot, commanded an F-16 fighter squadron, commanded two fighter wings, and was commander of U.S. Air Forces Europe and Allied Air Forces Central Europe. He earned a master of business administration degree from Golden Gate University.
Gen. Jumper and his wife, Ellen, live in Spotsylvania, Virginia. He is the 15th person to receive the prestigious New Market Medal since it was established in 1962.
-VMI-