Aquatics Center Groundbreaking Moves Closer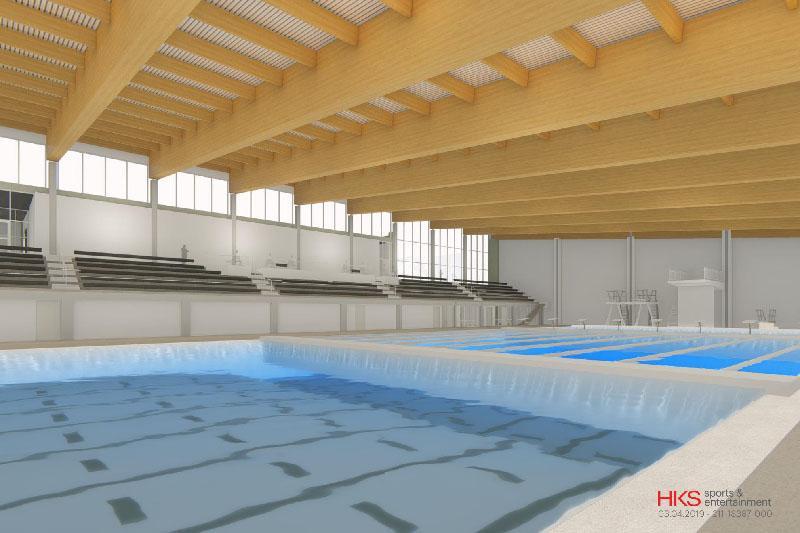 LEXINGTON, Va., April 11, 2019—Barring unforeseen delays, this time next year ground will be broken for VMI's new aquatics center, officially known as Phase III of the Corps Physical Training Facility.
State funding—about three-quarters of total cost of the $41.275 million facility—was included in the biennial budget proposed by Gov. Ralph Northam '81, and that funding remained in the budget as it passed through both houses of the General Assembly. The remainder of the overall cost of the project came from private donations.
"We were very happy to see [the funding] get through all of the hurdles down in Richmond," said Col. Keith Jarvis '82, director of construction.
Once the design work is complete, ground should be broken in the spring of 2020, Jarvis explained, with completion expected approximately 20 to 24 months later. The aquatics center will be built alongside North Main Street, immediately adjacent and connected to the Corps Physical Training Facility. The center will also be connected to the Knights of Pythias building, a historically significant structure with ties to Lexington's African-American community.
"It will attach to the new aquatics center via a glass walkway," said Jarvis of the Knights of Pythias building, also known as the American Legion building, which was moved in 2014 to make way for the Corps Physical Training Facility. "As part of the project, we'll renovate the Legion building, and it'll be utilized for conference and office space that supports the aquatics center."
The centerpiece of the aquatics center, the new swimming pool, will be 50 meters long and 25 yards wide, a feature that allows swimmers to compete in meets that measure distances in meters and those that measure distances in yards. The pool will have lane markers running both horizontally and vertically, along with floating bulkheads to separate the pool into segments.
"For a daily practice, you could have diving practice, swimming practice, and water polo practice all occurring in this pool at the same time," Jarvis stated.
That's an exciting possibility for Andrew Bretscher, head swimming and diving coach since 2017. "One of the challenges we've had since I've been here is just space," said Bretscher. "We are very limited by the current pool."
Constructed in 1969, when the Corps of Cadets was much smaller than it is now, the existing pool in Clark King Hall is greatly in demand not only for swimming and diving practice, but also water polo, ROTC activities, and physical education classes.
Bretscher noted that at 25 yards long, and 42 feet across, the Clark King pool is too small to accommodate more than one team practice or PE class at a time. It's also very hard for him to find time to work with swimmers individually because pool time is so scarce. Divers, too, struggle to fit in practice time because they can't dive while swimmers are using the pool.
"It'll be much better with the new facility," he commented. "It won't be such a headache finding available pool space."
Bretscher would also like to see the number of Keydet swimmers increase. This year, he had 18 men and 11 women, but once the new facility is up and running, he's hoping to have about 25 swimmers of each gender. At conference championships, he explained, 18 scores count, but given the fact that injury or illness can easily sideline an athlete, it's always better to start with a deep roster.
When the aquatics center is completed in 2022, it will bring to an end a plan for athletic facility renovations and additions that began in 2014 with the Corps Physical Training Facility Phase I, which included renovations of Cormack and Cocke Halls.
Phase II of the project was building the Corps Physical Training Facility, which opened in the fall of 2016 as home to the Institute's NCAA track teams. The building provides a venue for ROTC and individual cadet physical training as well, especially in inclement weather. Altogether, the three phases of the Corps Physical Training Facility cost $122 million.
-Mary Price
-VMI-