Save the Children CEO to Receive Daniels Award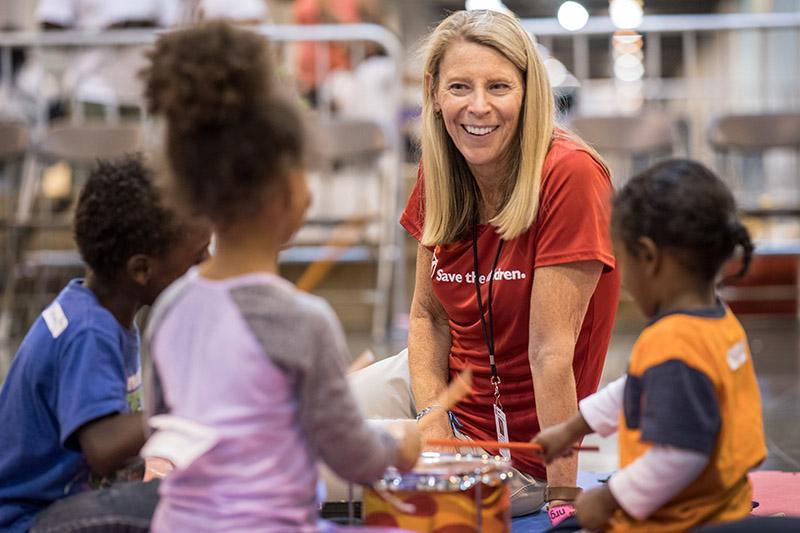 LEXINGTON, Va., March 4, 2019—Carolyn Miles, president and CEO of Save the Children, has been selected to receive the Jonathan Daniels Humanitarian Award at Virginia Military Institute. She will accept the award Wednesday, March 6, at 11:15 a.m. in Cameron Hall. Live video of the event will be available beginning at 11 a.m.
The event is free and open to the public. For those attending on Wednesday, VMI's clear bag policy will be in effect.
Miles will be only the fifth recipient of the Daniels Award since its inception in 1997. The award was established by the VMI Board of Visitors to honor Jonathan M. Daniels '61, who gave his life to save a young black girl during a voter registration drive in Alabama in 1965. The award recognizes individuals who have made significant personal sacrifices to protect or improve the lives of others.
"I am incredibly honored to be the recipient of this award. I accept it on behalf of the over 30 million children who today find themselves displaced due to war or conflict. Jonathan Daniels stood for the protection of every child and this award from VMI will inspire Save the Children, and me, to do even more," said Mrs. Miles in her acceptance of this award.
"We are honored that Mrs. Miles has accepted this award," said William "Bill" Boland '73, president of the VMI Board of Visitors. "I cannot think of any activity that shouts 'humanitarian' more than the daily struggle Mrs. Miles directs to care for some of the most vulnerable human beings in the world. Her quiet, determined leadership based on the value and dignity that should be accorded to all people reflects the core values that motivated Jonathan Daniels more than 50 years ago."
Save the Children is a global organization with the goal of driving down the number of preventable deaths for children under 5 years of age, ensuring that every child gets a high-quality basic education, and protecting all children from harm. The organization currently serves more than 157 million children in the United States and in 120 countries.
Miles began her career with Save the Children in 1998 and became chief operating officer in 2004. She became president and CEO in September 2011. Under her leadership, Save the Children has more than doubled the number of children it reaches with nutrition, health, education, and other programs. Miles's signature issues include hunger, learning outcomes, and ending preventable child deaths.
Miles has served on numerous boards, including that of the University of Virginia's Darden School of Business, where she received her MBA. She is co-chair of the U.S. Global Leadership Coalition and is the chair of InterAction, the largest coalition of U.S.-based non-governmental organizations. In 2015, Miles was named one of 50 of the world's greatest leaders by Fortune magazine.
Previous recipients of the Daniels Award include former President Jimmy Carter, who received the inaugural award in 2001; former U.S. Ambassador to the United Nations Andrew Young, honored in 2006; international humanitarian worker Paul Hebert '68, in 2011; and Georgia congressman and civil rights leader John Lewis in 2015.
-VMI-