Seventh Year at San Remo Brings Success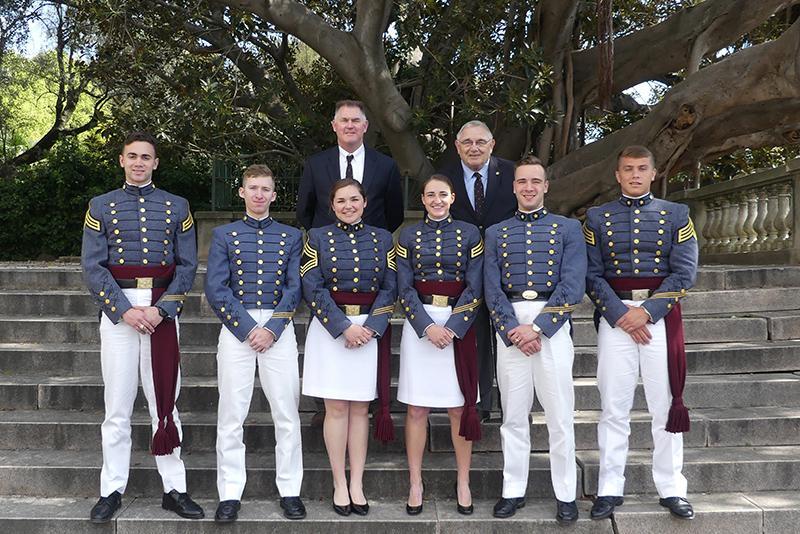 LEXINGTON, Va., April 8, 2019—"That's the best we've ever done," stated Col. Robert "Bob" James, Mary Moody Northen chair in the Department of International Studies, just a few days after he and six cadets returned with awards from the 18th annual International Competition on the Law of Armed Conflict, sponsored by the International Institute of Humanitarian Law in San Remo, Italy.
The competition, which brings together cadets from military academies all over the world, is held each March. VMI has been sending a delegation each year since 2013—and this year, Jordan Farmer '19 was not only part of a three-member international team that took second place overall, but he also placed fourth individually. Before this year, no VMI cadet had ever received an individual award.
At the competition, cadets are split into teams of three people each, with one native English speaker on each team. The competition, which this year attracted 28 teams from 15 nations, is conducted in English.
During the event, each team represents the interests of a fictitious country in a wartime situation, while a moderator, typically a lawyer or professor of international law, attempts to foil each team's argument by playing devil 's advocate. Participants must back up their position statements by citing applicable statutes of international law.
"For me, I was more proud of the team award, because that was the bigger challenge for me—to work with two people I'd never met before, from two different countries, who don't necessarily speak English as well as I do," said Farmer, whose teammates were a woman from Germany and a man from Sweden.
Farmer, an international studies major who plans to commission into the Army, meshed well with his teammates, and he enjoyed helping them with small points of English usage.
"One of the things that helped us was that we worked really well together," he commented. "It wasn't just me speaking. All three of us were researching the issues, and we were all pretty vocal in getting our answers out there."
Some teams, Farmer noticed, were dominated by the native English speaker, who did nearly all of the talking for the group. That wasn't the case for his group, which had spirited discussions.
"The Swedes are very, very strict in interpreting international law, and we butted heads a little bit," he said.
Soon to serve in the armor branch of the Army, Farmer said the competition had made him more aware of war's impact on civilians.
"One of the things we don't get taught in ROTC is that you have to be concerned with the people, and not just your people—all of our wars are fought in foreign countries, and you need to prioritize the people who are suffering as a result of the war that you're waging," he stated. "That's something that I hadn't ever considered before."
Outside of the competition, the group enjoyed the beauty of the Italian Alps and the Mediterranean Sea, which are juxtaposed at San Remo, which is in the northwestern corner of Italy near the border with France. "You have the mountains behind you, and the Mediterranean sprawling out in front of you," Farmer noted. "It was so beautiful."
Cadets also enjoyed the opportunity to spend time with new friends of many nationalities. The VMI contingent spent a good bit of time with cadets from Sandhurst, Britain's military academy, and also those from the Norwegian military academies.
"It was kind of crazy—you're speaking with people from seven, eight different countries, and you're just hanging out and having a beer together," said Farmer. "It shows that regardless of where we come from, what language we speak, we can just put our differences aside and enjoy being in each other's company."
In addition to Farmer, cadets traveling to San Remo this year were Quinn Conrad '19, Hannah Gillan '19, Calvin Lawson '19, Andrew Rundquist '19, and Jacob Van Dyke '19.
-Mary Price
-VMI-