ROI of a VMI Education is Highlighted in Recent Study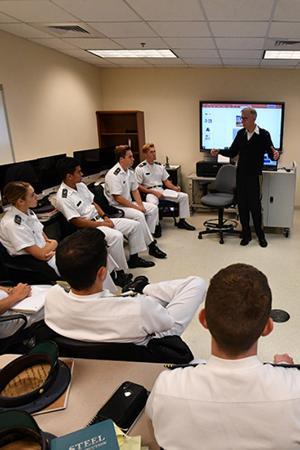 LEXINGTON, Va., Jan. 20, 2020–Virginia Military Institute comes in as the top public liberal arts college in the nation in terms of return on investment, according to a recently released study. While there's a bit of a wait for the payoff compared to other universities, the return on investment from a liberal arts education, like the one at VMI, proves quite strong.
A November report from Georgetown University's Center on Education and the Workforce called "A First Try at ROI: Ranking 4,500 Colleges" examined the earnings value of higher education. An additional study, "ROI of Liberal Arts Colleges: Value Adds Up Over Time" offers a closer look at the more than 200 liberal arts colleges in the United States and how graduates do financially over time.
While the median ROI at liberal arts colleges is about 40 percent below the median of all colleges 10 years after enrolling, the mark shifts over time. The median ROI 40 years after enrollment at liberal arts colleges is $918,000, compared to the median of all colleges combined, which is $723,000. Private schools have the highest ROI typically, but Virginia Military Institute, a public school, makes its way on to the list of the 10 colleges with the highest long-term ROI. VMI's neighbor, Washington and Lee University, is also on that list. Both schools have a ROI of more than $1 million 30 years after enrollment.
The study on liberal arts schools mentions the challenges that these colleges and universities face in recruiting students who are focused on particular job markets. When there is a higher percentage of STEM (science, technology, engineering, and mathematics) majors like at VMI, the ROI often climbs.

To see the full rankings and learn more about this research, please visit https://cew.georgetown.edu/cew-reports/CollegeROI/.
-VMI-