Two VMI Faculty Members to Speak on With Good Reason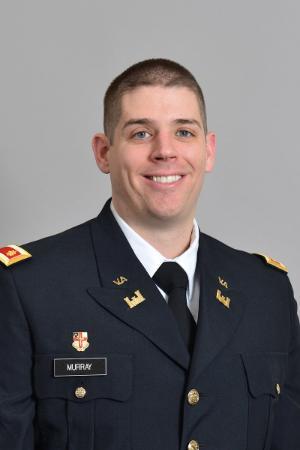 LEXINGTON, Va., Jan. 14, 2020—Two Virginia Military Institute faculty members will discuss homeownership and access to credit on public radio's With Good Reason Jan. 17-23.
Maj. Tim Murray, assistant professor of economics and business, makes his With Good Reason debut, speaking on a generational change in how millennials are saddled with student loans and are delaying home-buying, while baby boomers are selling their over-large houses or downsizing.
Also on the episode, Col. Valentina Dimitrova-Grajzl, professor of economics and business, will discuss how redlining, or the practice of excluding certain geographic areas when extending credit, is leading to the denial of consumer credit for people living on or near American Indian reservations. Dimitrova-Grajzl was named a 2019 outstanding faculty member by the State Council of Higher Education for Virginia.
In Lexington, With Good Reason will air Sunday, Jan. 19, at 3 p.m. and Wednesday, Jan. 22, at 8 p.m. on WMRA 89.9 FM. In Charlottesville, it can be heard at the same times on WMRA 103.5 FM, and also at 2 p.m. Sunday on Radio IQ 88.5 FM. In Harrisonburg, the show will air at the same times on WMRA 90.7 FM.
In addition to Murray and Dimitrova-Grajzl, others speaking on this episode will be LaDale Winling of Virginia Tech, speaking on the widening homeownership gap between whites and African-Americans; and Kathryn Howell and Ben Teresa of the RVA Eviction Lab, speaking on how the eviction crisis in the United States predominantly affects communities of color.
With Good Reason is sponsored by the Virginia Foundation for the Humanities. Audio files of the full program and its companion news feature will be posted the week of the show to the With Good Reason website.
-VMI-