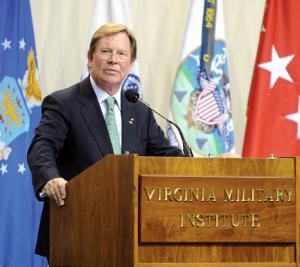 LEXINGTON, Va., April 13, 2020—Donald "Donny" M. Wilkinson, VMI Class of 1961, who served the Institute loyally after graduation, passed away on April 13 at the age of 82.
Gen. J.H. Binford Peay III '62, superintendent, noted Mr. Wilkinson's long and significant association with VMI.
"Wilkinson led with sincere passion, and the Institute has been able to serve cadets and community better because of him." Peay said. "His death is a great loss for the Institute, and I send my condolences to his family and those who he impacted through his virtue, integrity and patriotism over the years."
Wilkinson earned a Bachelor of Arts degree in English from VMI, then served in the U.S. Army as an air defense artillery officer from 1962 to 1964. He earned a Master of Business Administration degree from the University of Virginia's Colgate W. Darden School of Business in 1966. He was cofounder of the global investment-management firm Wilkinson O'Grady. He served from 1977 to 1994 as its president and from 1994 to 2014 as its chairman.
Wilkinson served as a volunteer with VMI's Sesquicentennial Challenge in the 1980s, then, from 1989 to 1997, served on the VMI Foundation's Board of Trustees. From 2000 to 2004, he was the vice chairman of VMI's campaign, Reveille: A Call to Excel, which raised $207 million. In 2001, as part of the Reveille Campaign, he helped establish the Jackson-Hope Fund. He was chairman of An Uncommon Purpose: A Glorious Past, A Brilliant Future: The Campaign for VMI, which raised more than $340 million from more than 15,000 donors. Recently, he was instrumental in the establishment of the General J. H. Binford Peay III 1962 Endowment for Academic Excellence, serving as chairman of the Peay Endowment Cabinet to promote this special endowment.
Appointed to VMI's Board of Visitors in 1999, he served on that body until 2007. He was the Board's vice president from 2005 to 2007 and the chairman of its Academic Affairs Committee for four years. In 2010, the VMI Foundation recognized Wilkinson's long record of service to the Institute and the VMI Foundation by presenting him its Distinguished Service Award.
-VMI-