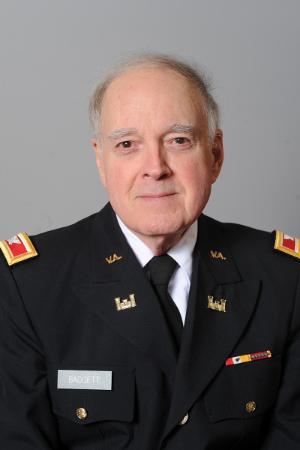 LEXINGTON, Va., Feb. 26, 2020— Col. William "Bill" D. Badgett '53, professor emeritus of English and fine arts and the longest-serving faculty member in the history of VMI, passed away at the age of 88 on February 24.
Col. Badgett graduated from VMI with a degree in English with a desire to teach. After a tour of duty in the U.S. Air Force, he joined the faculty as an instructor in 1955. Although he retired from the full-time faculty in 2010 after 55 years of service, he continued to teach until 2016 as the Edwin P. Conquest '14 Chair in the Humanities. Col. Badgett's only time away from VMI was when he earned a master's degree in the history of art from Harvard University in the late 1950s. Including his cadetship, he served under eight of VMI's 14 superintendents. In 2011, he said, "I plan to teach as long as sight, hearing, and memory allow."
Superintendent Gen. J.H. Binford Peay III '62 said, "His dedication to VMI to bringing the love and knowledge of fine arts to cadets was remarkable. He opened the eyes of cadets to the world of art, music, architecture, and literature, and was a strong supporter of the VMI system. Bill was an icon in VMI's long and remarkable history, and will be missed."
Col. Emily Miller, department head of English, Rhetoric, and Humanistic studies echoed this sentiment. "An outstanding teacher, both in and out of the classroom, he immeasurably enriched the cultural knowledge and experience of many generations of cadets, faculty, and local residents."
For more than 20 years, Badgett arranged all aspects of an annual classical concert series offered to VMI, Washington & Lee University, and the entire Lexington and Rockbridge community. He is the recipient of three VMI Distinguished Teaching Awards, a VMI Distinguished Service Award, and two VMI Achievement Medals.
His full obituary, including details about memorial gifts, can be found here.
-VMI-